The ever-evolving landscape of Search Engine Optimization (SEO) keeps digital marketers and business owners on their toes. As we delve into 2023, there have been noteworthy shifts in ranking factors, pushing the boundaries of what businesses should prioritize to remain competitive. Here's an insight into the prominent SEO factors in 2023.
What is SEO?
"SEO, or Search Engine Optimization, is the art and science of crafting digital content and optimizing website elements to resonate with both users and search engine algorithms. It's a strategic endeavor aimed at amplifying visibility in organic search results, bridging the intent of users with the relevance of online platforms."
Ranking SEO Factors in 2023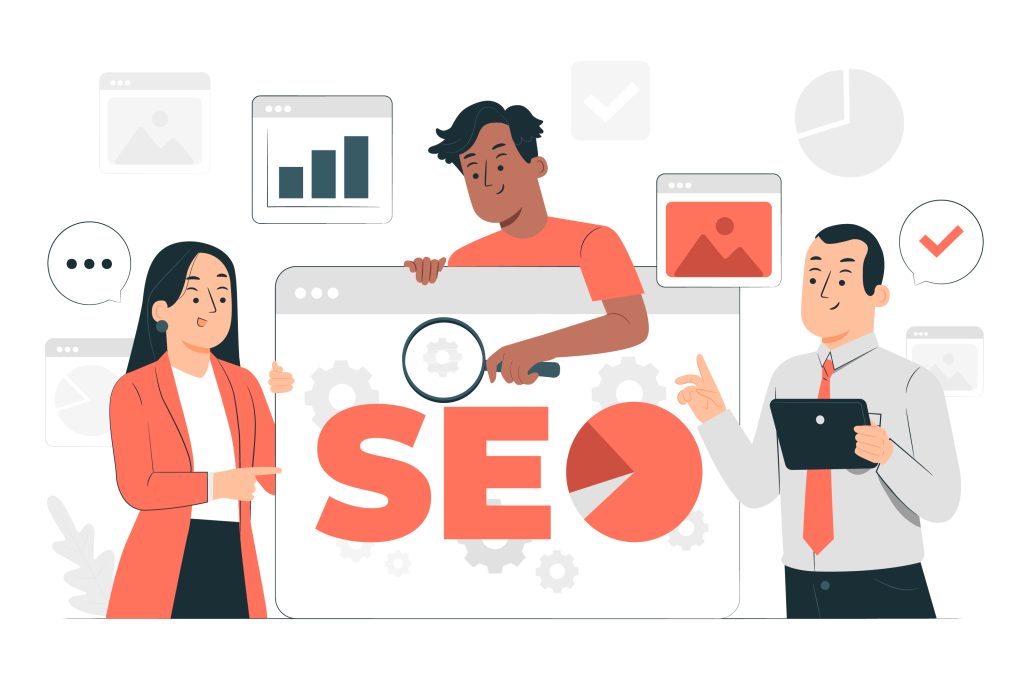 1. Core Web Vitals & User Experience (UX)
Google, recognizing this, introduced 'Core Web Vitals,' a set of metrics focusing on how users actually experience web pages. These vitals gauge the load performance, interactivity, and visual stability of a page.
A delay in loading or unexpected layout shifts can deter users, impacting conversions and bounce rates. Thus, for a brand to carve a dominant online presence, it's paramount to align technical backend operations with front-end user experiences. It's no longer just about having a website; it's about ensuring every visitor's journey on that site is seamless and enjoyable.
2. Mobile-First Indexing
Our world is becoming increasingly mobile-centric. People aren't just browsing; they're buying, learning, and engaging more on mobile devices than ever before. Google's mobile-first indexing reflects this shift. Rather than indexing the desktop version of a site, Google predominantly uses the mobile version for indexing and ranking.
This change underscores the necessity for businesses to prioritize mobile design and responsiveness. In essence, a website that isn't optimized for mobile isn't just missing out on mobile traffic but jeopardizing its overall search engine visibility.
3. Content Depth and Quality
Content has always been a cornerstone of SEO. But 2023 has redefined what "quality content" means. It's no longer sufficient to scratch the surface of a topic. Depth, thoroughness, and value delivery are the orders of the day.
The goal? To create content that stands as a definitive resource on a subject. This involves a blend of insightful research, unique perspectives, and comprehensive coverage. And it's not about verbosity; it's about enriching content that addresses user queries in full, offering them a one-stop solution.
4. E-A-T (Expertise, Authoritativeness, Trustworthiness)
E-A-T isn't just an acronym; it's a guiding principle in the SEO world. In a digital age replete with misinformation, establishing and showcasing your website's Expertise, Authoritativeness, and Trustworthiness is essential. Particularly in sectors that directly impact a person's well-being or finances (YMYL categories), Google employs stringent standards.
The underlying message is clear: brands need to be not just present online, but also credible. This involves presenting credentials, citing authoritative sources, and fostering a reputation of trustworthiness.
5. Semantic Search & User Intent
The evolution of SEO has brought us to an era where it's not just about targeting a keyword but comprehending the intent behind it. Semantic search delves into the relationship between words and the context in which they're used. It's about understanding the "why" behind a user's search. For instance, someone searching for "best running shoes" isn't merely looking for a list. They might want to understand what makes a shoe ideal for running or how to choose based on their foot type. Websites that tap into this deeper layer of user intent, addressing the nuances and contexts of queries, are the ones that will rise to the top in search results.
6. AI & Machine Learning
The dawn of Artificial Intelligence and Machine Learning in the realm of SEO marks a pivotal shift in how content is perceived by search engines. Tools like Google's BERT leverage AI to grasp the nuances of human language, making it imperative for businesses to craft content that's not just keyword-rich, but contextually relevant and natural. No longer can content be stuffed with keywords in hopes of ranking. In the age of AI, content needs to resonate genuinely with human queries, reflecting the depth, diversity, and dynamism of human conversation.
7. Video SEO
In an era where visual content reigns supreme, video SEO emerges as a frontier of untapped potential. With platforms like YouTube—essentially the world's second-largest search engine—it's not enough to produce high-quality videos; they must be SEO-optimized. This optimization extends beyond the video content to include descriptive titles that captivate, detailed descriptions that inform, and subtitles that ensure accessibility. As video content consumption skyrockets, the SEO strategies for videos become paramount in capturing audience attention and engagement.
8. Voice Search Optimization
The days of typing out queries are gradually being complemented with conversational voice searches. The proliferation of smart speakers and voice assistants, like Alexa and Google Assistant, demands an SEO strategy tuned to the more colloquial, question-based nature of voice queries. This entails focusing on long-tail keywords, frequently asked questions and a natural language approach to content. As voice search becomes increasingly prevalent, the need to understand and optimize for these oral, often on-the-go queries grows exponentially.
9. Local SEO & Google My Business
Digital might connect the world, but local SEO grounds businesses in their immediate communities. When someone searches for a service "near me" or looks up local businesses, it's the optimized Google My Business listings that stand out. An up-to-date listing, showcasing authentic customer reviews, relevant photos, and key business information, can be the difference between a potential customer stopping by or moving on. In a global digital ecosystem, local SEO ensures businesses remain locally relevant, driving foot traffic and fostering community relationships.
10. Backlink Quality Over Quantity
The allure of backlinks as SEO goldmines isn't new. However, the approach to backlinking has matured considerably. In 2023, it's the quality, not quantity, of backlinks that matter. A handful of backlinks from authoritative, respected sites can elevate a website's SEO standing far more than numerous links from lesser-known, potentially spammy sites. The mantra for businesses is clear: foster genuine relationships, seek out authentic collaboration, and prioritize backlink quality as a testament to your website's credibility and authority.
11. Structured Data & Schema Markup
In the vast realm of the digital world, search engines continuously strive to understand and interpret the ocean of content. This is where structured data and schema markup play an instrumental role. By embedding structured data in your website's code, you're effectively providing search engines with a roadmap of your content, simplifying its comprehension. These efforts often materialize as rich snippets in search results—vivid, information-rich previews that drastically enhance click-through rates. A site with meticulously implemented schema markup doesn't just talk to its audience; it converses fluently with search engines, making its presence more pronounced in the Search Engine Results Pages (SERPs).
12. Diversity in Content Formats
Text might be the bedrock of web content, but today's audience craves diversity. From compelling infographics that condense complex data into digestible visuals, to podcasts offering deep dives into niche topics, and interactive tools providing hands-on engagement—diversifying content formats is the ticket to captivating a broader audience segment. It's not about replacing text but complementing it. By catering to varied user preferences, businesses not only enhance on-page dwell time but also build a multidimensional brand persona that appeals to auditory, visual, and kinesthetic learners alike.
13. HTTPS as a Standard
In an era of cyber threats and data breaches, a website's security isn't just a technical concern; it's a significant trust factor for users. The 'S' in HTTPS stands for 'secure', indicating encrypted data transfer between the web server and the browser. Search engines, recognizing the importance of user security, have started to give preference to HTTPS websites in rankings. In the eyes of both users and search engines, HTTPS isn't just a protocol; it's a stamp of credibility and assurance that user data will be safeguarded.
14. Internal Linking
The art of internal linking is akin to crafting a well-woven tapestry, where threads (or links) connect various segments, offering the viewer (or user) a comprehensive picture. Strategically linking relevant pages within your website ensures a dual advantage: it distributes page authority, boosting the SEO strength of individual pages, and it facilitates user navigation, guiding them effortlessly through your site's valuable content.
However, the magic lies in maintaining relevance. Anchor texts the clickable words that house the link must feel natural and contextually apt, ensuring users and search engines understand the link's purpose. here you may know about the External Linking as well in depth.
15. Social Signals
The symbiotic relationship between SEO and social media is one that cannot be overlooked. While the jury might still be out on the direct influence of social signals (likes, shares, comments) on search engine rankings, the indirect benefits are palpable.
A robust social media presence acts as a beacon, driving traffic, fostering brand awareness, and amplifying content's reach far beyond organic searches. It's a digital echo chamber where content resonates, is shared, and gains momentum, inevitably contributing to its digital footprint and authority.
16. User Engagement Metrics
Engagement metrics serve as the digital pulse of a website, gauging its vitality in the vast online ecosystem. Metrics like bounce rate, click-through rate (CTR), and dwell time aren't just numbers; they're direct reflections of content resonance. A high bounce rate might indicate fleeting visits, underscoring the need for more gripping content.
An impressive CTR emphasizes compelling meta descriptions, while substantial dwell time suggests valuable, captivating content. To refine these metrics, it's pivotal to constantly elevate content quality, aligning with audience needs and expectations. Search engines, always in pursuit of user satisfaction, may potentially reward websites with superior engagement metrics with better rankings.
17. Long-Tail Keywords
The SEO landscape has evolved, making room for the understated power of long-tail keywords. While they might lack the staggering search volumes of shorter, more generic keywords, they compensate with precision. These detailed, often conversational, queries are becoming indispensable, especially with the rise of voice search.
By targeting long-tail keywords, websites can attract an audience with specific needs, often resulting in higher conversion rates. In the vast sea of online searches, long-tail keywords are the guiding stars that lead users directly to the shores of relevant content.
18. Topic Clusters & Pillar Pages
The architecture of online content is undergoing a transformation, gravitating towards the model of topic clusters and pillar pages. In this setup, a central pillar page offers comprehensive insights into a broad topic, while a network of related sub-topics (or cluster content) orbits around it, linked seamlessly. This meticulous structuring fosters an interconnected content ecosystem, bolstering the SEO authority of the pillar page. For businesses, this means a dual advantage: users find content navigation intuitive, while search engines are offered clear contextual signals, potentially enhancing rankings.
19. Multilingual & International SEO
In the era of globalization, businesses cannot afford to be linguistically or regionally myopic. To resonate with a diverse, global audience, multilingual and international SEO practices are paramount. This entails creating content tailored for specific languages and regions, ensuring cultural and linguistic relevance.
However, it's not just about translation; it's about optimization. Implementing hreflang tags accurately is vital, signaling to search engines the intended linguistic and regional target for each page. By embracing multilingual and international SEO, businesses can weave a global tapestry of audience connections, transcending borders and barriers.
20. Accessibility & Web Standards
The digital realm must be a place of inclusivity, where content and services are accessible to all, including those with disabilities. Adhering to web standards and prioritizing accessibility isn't just an ethical imperative; it's an SEO advantage.
Websites that are universally accessible, employing tools and practices that cater to varied abilities, showcase a commitment to a diverse audience. Search engines, recognizing this commitment, might favor such websites, reflecting the broader digital push towards universal inclusivity.
Conclusion
SEO in 2023 isn't about chasing algorithmic changes, but about adapting to the broader shifts in user behavior, technology, and content consumption. A holistic approach that focuses on user experience, content quality, and technological advancements will keep websites ranking prominently in this dynamic environment.