In the realm of personal electric transportation, two prominent contenders have emerged as popular choices for urban commuters and thrill-seekers alike: the electric unicycle and the electric scooter. But when it comes to choosing between an electric unicycle and an electric scooter, which one reigns supreme? What are the key factors that set them apart?
Electric Unicycle vs. Electric Scooter: Exploring the Key Differences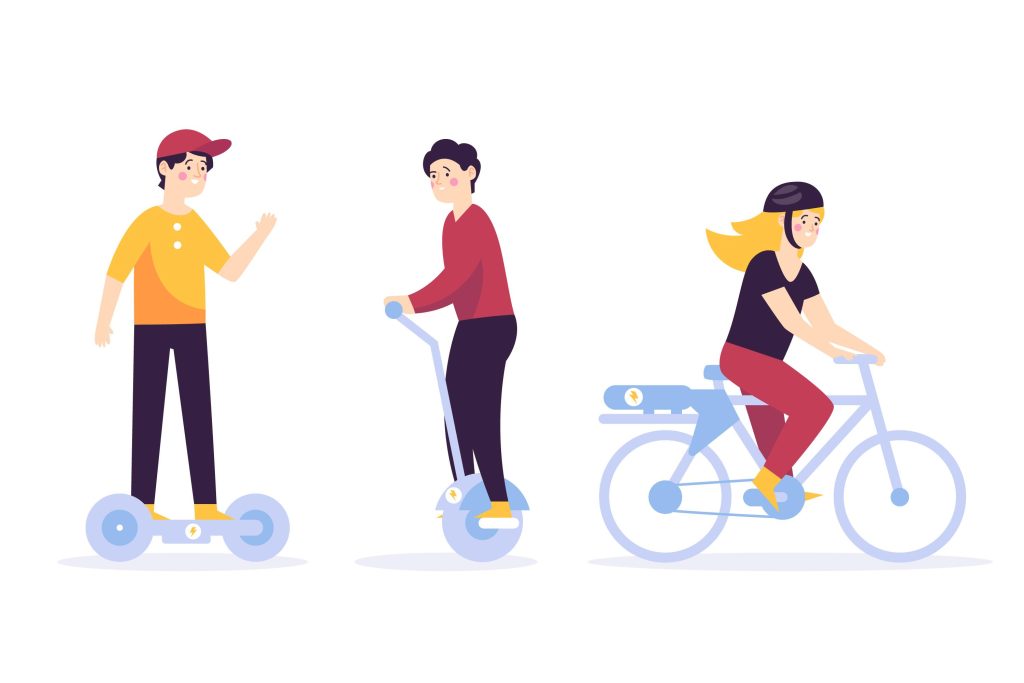 1. Size and Design: Compact vs. Foldable
Electric unicycles, as the name suggests, feature a single-wheel design, with the rider straddling the device. Their sleek and minimalist design allows for effortless maneuverability through crowded streets and tight spaces. Electric scooters boast a more traditional two-wheel design and often feature a collapsible frame for easy storage and portability. Whether you prefer the compactness of the unicycle or the foldability of the scooter, both options offer distinct advantages.
2. Ease of Use: Balancing Act vs. Stability
Riding an electric unicycle demands a certain level of skill and balance, as riders must maintain their equilibrium while controlling the device. This can be initially challenging for newcomers, but with practice, riders can achieve a smooth and thrilling experience. electric scooters offer enhanced stability, thanks to their two-wheel configuration and handlebars. Scooters are generally considered easier to learn and operate, making them a popular choice for beginners or those seeking a hassle-free ride.
3. Speed and Range: Velocity vs. Endurance
When it comes to speed, electric unicycles have the edge, often reaching higher velocities compared to their scooter counterparts. With a bit of practice and a steady hand, riders can experience the thrill of cruising at impressive speeds. electric scooters make up for their slower pace by offering a greater range. Scooters typically come equipped with larger batteries, allowing them to cover more ground on a single charge. This makes them a reliable choice for long commutes or extended rides without the need for frequent recharging. Electric unicycles, while offering exhilarating speed, may have a more limited range due to their smaller battery size. It's essential to consider your intended usage and prioritize either speed or endurance when deciding between the two.
4. Portability: Lightweight vs. Compact
When it comes to portability, electric scooters often have the upper hand. Their foldable frames and lightweight construction make them easy to carry and store, especially for those who frequently rely on public transportation or need to navigate stairs. Electric unicycles, while compact, require more effort to transport and may not be as convenient for situations that demand frequent carrying or lifting.
5. Terrain Adaptability: Versatility vs. Stability
One aspect where electric scooters shine is their ability to handle various types of terrain. With their sturdy frames, shock-absorbing systems, and pneumatic tires, scooters provide a smooth and stable ride on both paved roads and uneven surfaces. On the other hand, electric unicycles excel in maneuvering through crowded urban environments and tight spaces, allowing riders to effortlessly navigate congested areas or narrow pathways. Consider your typical riding environment and the terrain you'll encounter to determine which vehicle suits your needs.
6. Safety: Balance vs. Stability
Safety is paramount when choosing any mode of transportation, and both electric unicycles and electric scooters have their own safety considerations. Electric unicycles require a strong sense of balance and careful attention to body positioning. While accidents can happen, wearing protective gear such as a helmet, knee pads, and elbow pads can significantly reduce the risk of injury. Electric scooters, with their stable design and handlebars, offer increased stability and control, making them a safer option for riders who may be less confident in their balancing skills.
7. Cost: Budget-Friendly vs. Feature-Rich
In terms of cost, electric unicycles generally tend to be more expensive than electric scooters. The advanced technology and engineering required to create a self-balancing unicycle contribute to its higher price point. Electric scooters, while still varying in price based on features and brands, generally offer a more budget-friendly option for those looking to invest in personal electric transportation without breaking the bank.
FAQs About Electric Unicycles and Electric Scooters
Are electric unicycles difficult to learn?
Electric unicycles require a learning curve and may be challenging for beginners. with practice and patience, most riders can become proficient in riding and maintaining balance.
Can electric scooters handle hilly terrain?
Many electric scooters are designed to handle moderate inclines and hilly terrain. it's crucial to check the specifications and choose a scooter with sufficient motor power and torque for your specific needs.
Which option is more suitable for daily commuting?
Both electric unicycles and electric scooters can be suitable for daily commuting, depending on personal preferences and the terrain of your commute. Consider factors such as distance, terrain conditions, and portability when making your decision.
Are electric unicycles and scooters legal to ride on public roads?
The legality of electric unicycles and scooters varies by jurisdiction. It's important to research and adheres to local laws and regulations regarding their usage on public roads, sidewalks, and bike lanes.
How long do the batteries typically last on electric unicycles and scooters?
Battery life depends on various factors such as the model and usage patterns. on average, electric unicycles and scooters can provide a range of 15-30 miles per charge, with some models offering even longer battery life.
Can electric unicycles and scooters be ridden in rainy weather?
While some electric unicycles and scooters have water-resistant features, it's generally recommended to avoid riding in heavy rain or wet conditions. Moisture can damage electrical components and compromise safety. Always check the manufacturer's guidelines regarding weather resistance and take necessary precautions.
Conclusion
In the battle of electric unicycles versus electric scooters, both contenders offer unique benefits and cater to different preferences and needs. Electric unicycles provide thrilling speed, compactness, and maneuverability, making them an excellent choice for urban riders seeking an adrenaline rush. On the other hand, electric scooters offer stability, ease of use, and versatility on various terrains, making them ideal for commuters and those seeking a reliable mode of transportation.