Automation is a term used for technological applications where human input is minimized. These include IT automation, business process automation, and personal applications like smart home automation.
The topic at hand is robotic process automation which is also a part of business process automation.
What Does Mean By Robotic Process Automation (RPA)
Robotic process automation (RPA) software is a technological revolution that has made tasks like building, deploying, and managing software robots easy. These robots emulate human actions by interacting with digital systems to perform different functions.
Like people, software robots can understand what's on a screen, complete the right keystrokes, navigate systems, identify and extract data, and perform a wide range of defined actions. Robotic process automation can do all the tasks efficiently and more consistently than people.
Robotic process automation, also known as software robotics, uses automation technologies to mimic back office and other human workers like extracting data, filling in forms, etc.
With RPA, software users create software robots, or "bots", that can learn, mimic, and execute rules-based business processes. RPA automation enables the company to create bots that can observe and replicate human actions on digital media. Show your bots what to do, and then let them do the work. These bots can work non-stop with 100% reliability and precision.
Features Of Robotic Process Automation(RPA)
Robotic Process Automation bots can replicate human digital skillset. RPA bots are Digital Workforces that can interact with any required system or application to carry out some specific tasks.
Bots can easily copy-paste, scrape web data, make calculations, open and move files, parse emails, log into programs, connect to APIs, and extract unstructured data. You don't need to alter existing processes or business systems to adapt to the new RPA software.
Rich-analytical Suite
RPA software carries the analytical suite that is efficient in performance to discover the working of the robot workforce. The enterprise-level RPA ensures the management of the robotic process automation and its functions by a central console. Employees can access this console from any device, offering basic measurement on servers, robots, and their working systems.
The RPA provides detailed operation analysis that lets users track the operation in real-time. This helps in determining arising issues and streamlines future workloads. This feature of RPA doesn't require specific integration.
Security
If your business runs online, various employees will likely get access to RPA tools. The RPA tools include secure and strong user access management features. Therefore, RPA tools include role-based security capability to ensure action-specific permissions.
In addition, the available robotic process automation configuration the encryption capabilities for securing essential data types to defend against any breach in the network communication. It also modifies the security system for better protection.
The bot only accesses the automated data, audits, and instructions. The encrypted data avoid unethical breaching and ensure the legitimacy of useful records.
The RPA solutions also record the logging of users and every action they make to execute their provided work. This feature secures the internal arena of your business and compliance with industry regulations.
Source Control
The source control securely stores every tried version of the same process and prevents it from getting deleted. The source control helps the developers to differentiate various versions of a specific process to ensure the modifications.
Likewise, the control room component in some RPA products allows for scheduling bots, handling bot versions, maintaining a log of user & bot activities, and administering users & roles. This component can offer auditable management and control over the RPA environment, including clients, bots, users, and schedules. It also implicates bots and creates an access and control system for them.
Hosting and Deployment Option
The RPA system deploys customers in the virtual system, cloud services, and terminal services. Cloud deployment attracts the most customers among the other deployment options for its scalability and flexibility. Adding to this, the RPA system is powerful enough to deploy robots in groups of hundreds automatically.
This feature comprises an agentless configuration and proactively eliminates the central server synchronization problems and runtime updates by protecting client configuration and bot deployment overlap. Therefore, businesses can install RPA tools on desktops and deploy them on servers to access data for completing repetitive tasks. Similarly, they can implement numerous bots to run specific works for processing high-volume data.
Debugging
From a development perspective, debugging is one of the best features of RPA software. The RPA can go through a running process and adjust it dynamically to get specific outcomes. Some RPA tools must stop running to make the change and replicate the process.
RPA also changes variable values for different scenarios during the process to test its nature. Without any changes in the process, the dynamic debugging approach resolves issues arising during production.
Benefits Of Robotic Process Automation(RPA)
Boosts efficiency
The basic principle behind RPA is to let robots do what they are good at and let humans do what they are good at. Various manual, mind-numbing tasks consume significant time and energy, so personnel cannot accomplish much daily.
RPA changed that perspective and configured automated software robots to accomplish 50% more than the human staff. With robotic process automation, businesses will enjoy a significant boost in productivity.
Increases efficiency
The combination of the human workforce and RPA tools leads to increased efficiency and reduced cost of operations. RPA speeds up processing times to reduce costs. It also helps in reducing costly errors and processing costs. Everyday savings from these efficiency improvements fall between 25% and 50%. The overall efficiency is increased with an increase in per-employee output.
Increase security
The RPA robots only perform specific tasks. Because of this, we have one more advantage of incorporating RPA into business, i.e. increased data security. A business requires optimum security of the data present and to prevent breaches that can be harmful.
The risks of breaches can be decreased by strictly following RPA parameters. A well-developed and maintained RPA software will contribute to the security of your business information.
Best RPA Software and Tools In 2022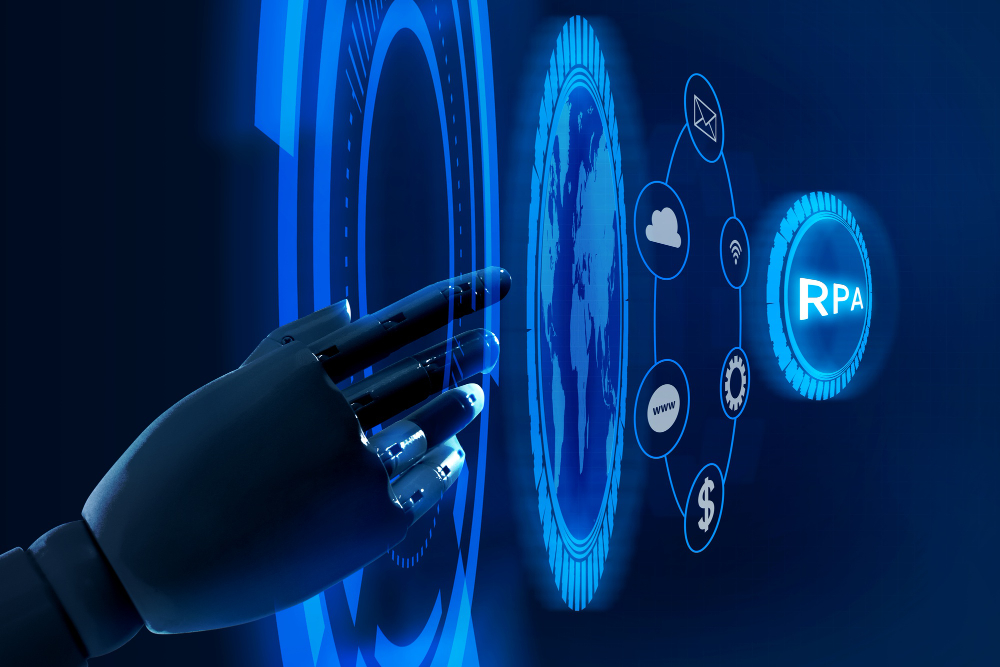 UiPath
UiPath offers RPA solutions using AI to automatically scan business processes and determine the best ones to automate. UiPath RPA provides the business owner to specify the processes that require automation. It is easy to use and provides many tools for employees of all skill levels. It provides robust support and training tools.
Rapise
Inflectra has introduced Rapise as a Robotic Process Automation system. It can efficiently automate complex applications. The latest version of Rapise is its 7th version. It provides a platform for enhancing and iterating the business. The easy interphase makes it friendly for even a non-developer.
Keysight's eggplant
The eggplant software of Keysight provides Robotic Process Automation to your business. It is efficient and productive. The end-to-end automation makes the completion of the task easy. It has a secured verification functionality to validate using automation. It can easily automate any front or back-office application.
Blue Prism
Blue Prism is widely regarded as the best RPA software on the market. It is used by major organizations all over the world to automate their business processes. Blue Prism is powerful and scalable, and it can be used to automate any type of process. It is easy to use and configure, and it has a wide range of features. Blue Prism is also very reliable and has a proven track record of success.
Automation Anywhere
Automation Anywhere is one of the best RPA software available in the market. It helps organizations to automate their business processes with ease and efficiency. Automation Anywhere is designed to work with all major applications, databases, and platforms. It enables businesses to automate their processes with minimal IT infrastructure. Automation Anywhere provides a wide range of features such as a drag and drop interface, actionable insight reports, visual workflow designer, etc. It also offers a free trial version for businesses to get started with Automation Anywhere. Automation Anywhere is the best RPA software for businesses looking to automate their business processes.
Pega
Pega is a top-rated Robotic Process Automation (RPA) software that helps organizations automate manual, rules-based processes. Pega has been consistently recognized as a leader in the RPA space by analysts such as Forrester and Gartner. Pega's RPA software is used by some of the world's largest companies to automate processes across a range of industries including banking, insurance, healthcare, and manufacturing. Pega's RPA software is easy to use and deploy and offers a low total cost of ownership. Pega's RPA software is also highly scalable, so it can be used to automate large or small processes. If you're looking for an RPA solution that can help your organization improve efficiency and reduce costs, Pega is a great option to consider.
Contextor
Contextor is a top-rated RPA software that helps you automate your business processes. Contextor is easy to use and requires no coding. Contextor can be used to automate any business process, including data entry, invoicing, and customer service. Contextor is a cost-effective solution that will save you time and money. Contextor is the perfect solution for businesses of all sizes. Contact Contextor today to learn more about how Contextor can help your business.
Kofax
Kofax is an RPA software that enables organizations to automate the processing of mission-critical information. Kofax automates manual, paper-based processes that are time-consuming and expensive. Kofax connects people, processes, and information to deliver the digital transformation that works for everyone. Kofax provides the tools and technologies necessary to make digital transformation possible for any organization. Kofax helps you optimize your business processes, reduce costs, and improve efficiency and customer satisfaction. Kofax delivers real-time insights that enable you to make better decisions faster. Kofax is the only RPA software that enables you to deploy bots in the cloud or on-premise. Kofax is easy to use and provides the flexibility to deploy bots on-demand or in batches. Kofax offers a free trial so you can try it before you buy it. Kofax is the leading RPA software and has been named a leader in Gartner's Magic Quadrant for Intelligent Business Process Management Suites (iBPMS). Kofax has also been named a leader in Forrester's Wave for Robotic Process Automation.
Nice Systems
Nice Systems is an RPA software. It enables you to automate processes within your business, whether it's creating documents or processing orders. Nice Systems is designed to be intuitive and easy to use, so you can get started right away without needing any prior experience. With Nice Systems, you can save time and money by automating repetitive tasks, and free up your employees to focus on more important work. Whether you're looking to improve efficiency or reduce costs, Nice Systems can help you achieve your goals.
Kryon
Kryon is the best RPA Software. Kryon offers the fastest and most accurate screen scraping technology available, Kryon's desktop application is used by some of the world's largest organizations. Kryon also has an intelligent process automation solution that can automate any process in any application, regardless of its interface. Kryon's solutions are backed by over 100 patents. Kryon's desktop application uses proprietary algorithms to identify objects on a screen and scrape data from them with up to 99.99% accuracy. Kryon's intelligent process automaton can automatically record and play back human actions in any application, eliminating the need for coding or scripts. Kryon's solutions are used by Fortune 500 companies, government agencies, and leading organizations in insurance, banking, healthcare, manufacturing, and many other industries. Contact Kryon today to see how we can help you automate your business processes.
Conclusion
Robotic Process Automation software is essential for your business. They carry out various functionalities and secure important data. Go through the article and choose the best Robotic Process Automation for 2021.