Are you an avid gamer looking to level up your gaming experience without breaking the bank? here we explore some innovative DIY gaming chair ideas that are perfect for gamers on a budget. With a little creativity and resourcefulness, you can create a comfortable and stylish gaming chair that will enhance your gameplay sessions. So grab your tools and let's get started!
How To make a Comfortable Gaming Chair By Following Ideas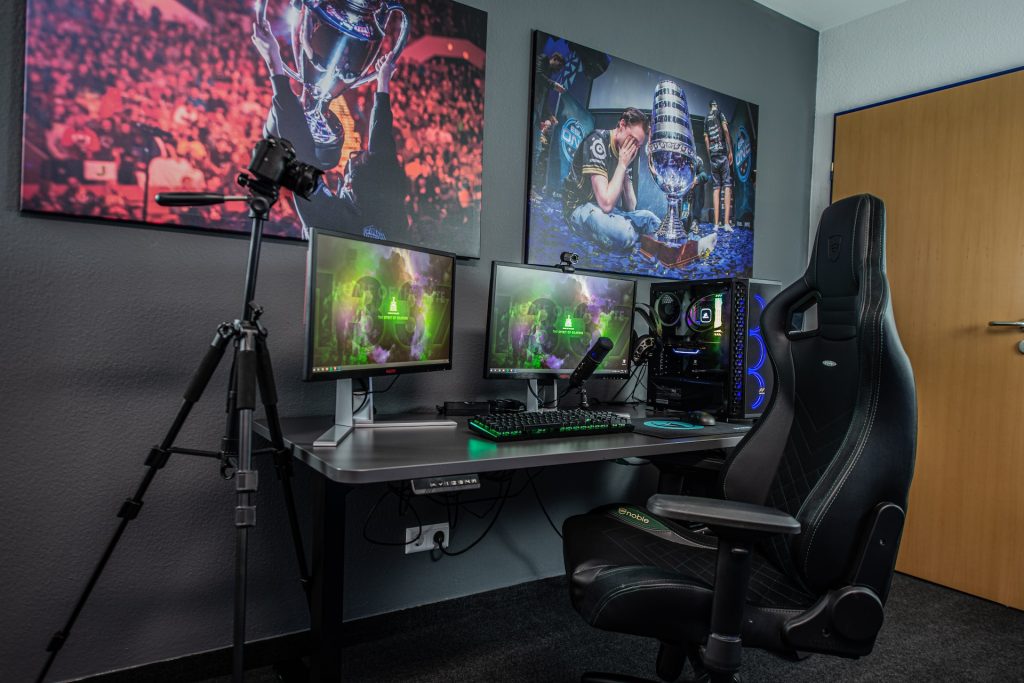 1. Repurposed Office Chair: Transforming Ordinary into Extraordinary
If you have an old office chair lying around, don't throw it away just yet. With a few simple modifications, you can turn it into a fantastic gaming chair. Start by giving it a fresh coat of paint in your favorite colors. Add some comfortable cushions to the seat and backrest, ensuring maximum comfort during those intense gaming sessions. Finally, attach a small tray or table to the armrests for easy access to your snacks and drinks. Voila! You now have a customized gaming chair without spending a fortune.
2. Pallet Gaming Throne: Embrace the Rustic Vibes
Looking for a unique and eco-friendly gaming chair? Consider using wooden pallets to create a rustic gaming throne. Gather a few pallets and dismantle them carefully. Use the wooden planks to build a sturdy frame for your chair. For the seat and backrest, attach the pallet planks horizontally, ensuring a comfortable seating position. To add a touch of style, sand down the rough edges and apply a coat of varnish or paint. This DIY gaming chair not only saves you money but also adds a charming, rustic vibe to your gaming setup.
3. Bean Bag Bliss: Sink into Gaming Comfort
Bean bags are versatile, comfortable, and budget-friendly options for gaming chairs. You can easily find affordable bean bags in various shapes, sizes, and colors. Choose one that suits your gaming style and preferences. To enhance the gaming experience, consider adding a backrest pillow or a lumbar support cushion. These additions will provide extra comfort and prevent any strain on your back during long gaming sessions. With a bean bag gaming chair, you can sink into gaming bliss without emptying your wallet.
4. DIY Racing Seat: Feel the Thrill of the Race
Are you a fan of racing games? Why not recreate the exhilarating experience of a racing seat right at home? Start by acquiring a comfortable car seat from a salvage yard or online marketplace. Mount the seat onto a wooden platform or a sturdy base. Attach a steering wheel and pedals for that authentic racing feel. To complete the look, add some decals or stickers to give your gaming chair a sporty vibe. Get ready to feel the thrill of the race without splurging on an expensive gaming chair.
5. Recliner Revamp: Gaming in Ultimate Comfort
Do you have an old recliner that has seen better days? Give it a new lease on life by transforming it into a gaming recliner. Start by repairing any broken parts or springs to ensure optimal comfort and functionality. Next, customize it by adding gaming-related accessories such as a headphone holder, cup holder, or even a built-in USB charger. With the ability to recline and relax, this gaming chair will take your gaming experience to new heights.
6. DIY Floor Chair: Gaming On the Ground
If you prefer a more casual and relaxed gaming setup, a floor chair might be the perfect choice for you. You can easily create your own DIY floor chair using a few inexpensive materials. Start by cutting a sturdy foam pad into your desired shape and size for the seat and backrest. Sew or wrap a durable fabric cover around the foam, ensuring a snug fit. For added comfort, attach a cushion or pillow to the backrest. This low-cost gaming chair option allows you to game comfortably on the ground without straining your back.
Frequently Asked Questions (FAQs)
1. Can I create a gaming chair on a tight budget?
Yes, you can definitely create a gaming chair on a tight budget. By utilizing inexpensive materials and repurposing items you already have, you can design a customized gaming chair that meets your needs without breaking the bank.
2. What tools and materials do I need for these DIY gaming chair projects?
The tools and materials needed may vary depending on the specific DIY gaming chair project you choose. some common items you may need include basic hand tools (such as a screwdriver and pliers), paint or varnish, cushions or padding, fabric, and adhesives. It's always a good idea to plan ahead and gather the necessary tools and materials before starting your project.
3. Are these DIY gaming chairs comfortable for long gaming sessions?
Yes, with proper customization and adjustments, these DIY gaming chairs can be made comfortable for long gaming sessions. You can add cushions, lumbar support, or even ergonomic features to enhance your comfort level. It's important to prioritize your comfort and posture while designing and using these gaming chairs.
4. Can I personalize these DIY gaming chairs to match my gaming setup?
Absolutely! One of the great advantages of DIY gaming chairs is the ability to personalize and customize them according to your preferences. You can paint them in your favorite colors, add gaming-related decals or stickers, and even incorporate additional features like built-in storage or charging stations. Let your creativity shine and make your gaming chair a reflection of your unique gaming style.
5. Are these DIY gaming chair ideas suitable for all ages?
Yes, these DIY gaming chair ideas can be adapted to suit all ages. Whether you're a teenager, a college student, or a seasoned gamer, you can tailor these projects to meet your specific requirements. Just make sure to consider the comfort and safety aspects when designing and building your DIY gaming chair.
6. Where can I find inspiration for more DIY gaming chair ideas?
There are various online platforms, forums, and social media groups dedicated to DIY gaming projects. Explore websites like Pinterest or join online gaming communities to find inspiration and ideas for your DIY gaming chair. Remember to always credit the original creators and adapt the ideas to your budget and available resources.
Conclusion
Gaming on a budget doesn't mean you have to compromise on comfort or style. With these innovative DIY gaming chair ideas, you can create a customized gaming throne that perfectly suits your needs without breaking the bank. Whether you choose to repurpose existing furniture or build a chair from scratch, let your imagination run wild and have fun with the process. Now, it's time to grab your tools, unleash your creativity, and embark on a DIY gaming chair adventure!