The home has transformed into an office for many, especially parents. Combining work duties with parenting roles under one roof is a new reality for many. This blend can often seem like stirring oil with water two aspects of life that resist mixing smoothly. It begs the question: How can parents ensure they're doing justice to their professional commitments while not missing out on memorable family moments? While it may appear daunting at first glance, there are ways to navigate this maze.
Useful Tips for Working From Home With Kids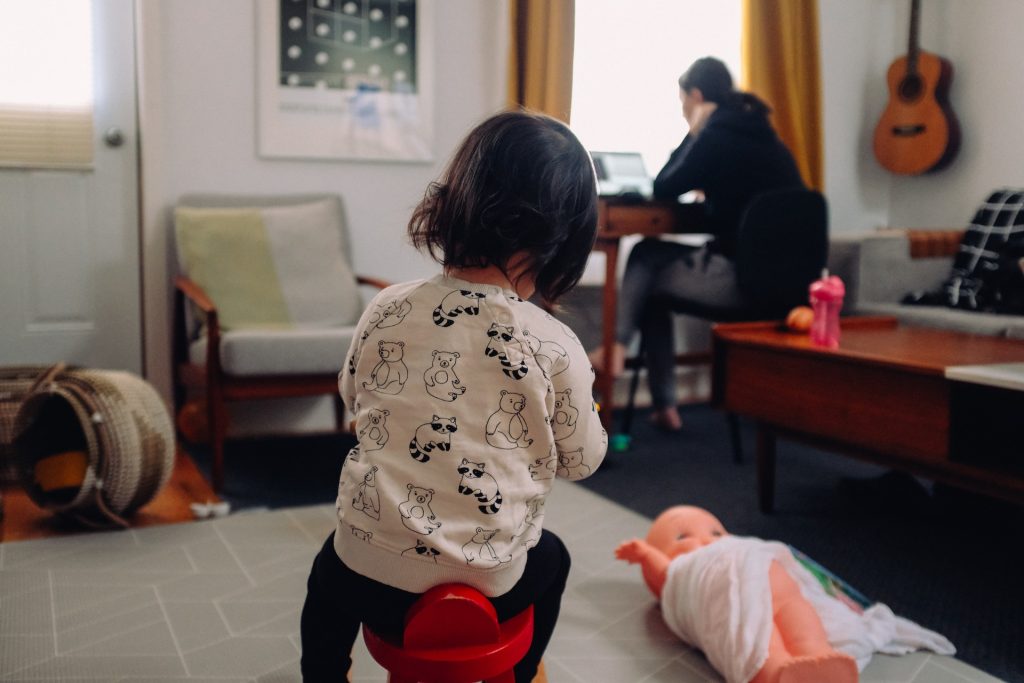 1. Set Up Shop
Having your own workspace at home is more than just about organization; it's about getting your mind ready for work. By picking a special spot in your house, like a corner or a table, as your "workplace," you're telling your brain it's work time when you're there. This spot acts as a clear line between work and home life. Studies on how surroundings affect our feelings and actions show that the right workspace can help you focus better and keep distractions away. So, by setting up your own workspace, you're not only organizing your stuff but also setting your mind up for success.
2. Bend Time a Little
Not everyone works best from 9 to 5, and when you're working from home with kids, those hours might not be ideal. Our bodies have a natural clock, called a 'chronotype', that tells us when we're most awake and ready to work. The Sleep Foundation has found that working when our body feels most alert can help us get more done. For parents, this might mean working during nap time or after the kids go to bed. So, while regular office hours might work for some, changing them up a bit might be the key for others, especially when balancing work and family.
3. Quick Quality Moments
It's easy to think that spending lots of time with our kids means setting up long activities or lessons. But it's not always about how long you spend; it's about how you spend that time. A study in the Journal of Marriage and Family showed that what really counts is the kind of time we spend with our children, not just the amount. Short, fun moments, like a quick dance or telling a short story, can be just as meaningful. These moments help build strong bonds and memories with our kids. So, even if you're busy, taking a few minutes to connect can make a big difference.
4. Talk Shop with the Kids
Chatting with your kids about your job can be a win-win. It's not just about letting them know what you do but also helping them understand why you do it. Discussing work helps children see the value of responsibility and commitment. When they understand your job's demands, they're more likely to respect the times you need to focus on work. Plus, talking about daily challenges and achievements can inspire them to appreciate hard work and dedication in real-life situations.
5. Task Batching
Batching tasks means grouping similar activities together, and it's a smart way to work. When you jump from one task to another, you might lose focus and waste time. Studies show that multitasking can slow you down a lot. So, instead of scattering tasks throughout the day, try to do similar things at once. For example, answer all your emails in one go, then have your meetings. This way, you get more done in less time. For parents working from home, this means finishing work tasks efficiently and having more time for the kids.
6. Connect with Fellow Parent-Warriors
It's often said that raising a child is a group effort. Today, as parents juggle work and kids, this idea is even more true. Talking to other parents who are in the same boat can be a big help. It's not just about sharing tips, but also about understanding that you're not alone in your daily struggles. Connecting with others can lessen feelings of loneliness and make things feel a bit easier. So, reach out, share stories, and take comfort in the shared journey of parenting while working from home.
7. Set Realistic Goals
Trying to be perfect all the time, especially while managing work and kids, can be stressful. Research shows that setting the bar too high can harm our well-being and make us feel less happy. It's better to set goals that are doable. Accept that some days you'll get a lot done, and other days might not go as planned. Celebrate the little wins and understand that it's okay to face challenges. By keeping expectations realistic, parents can feel better about their day and balance work and family life more effectively.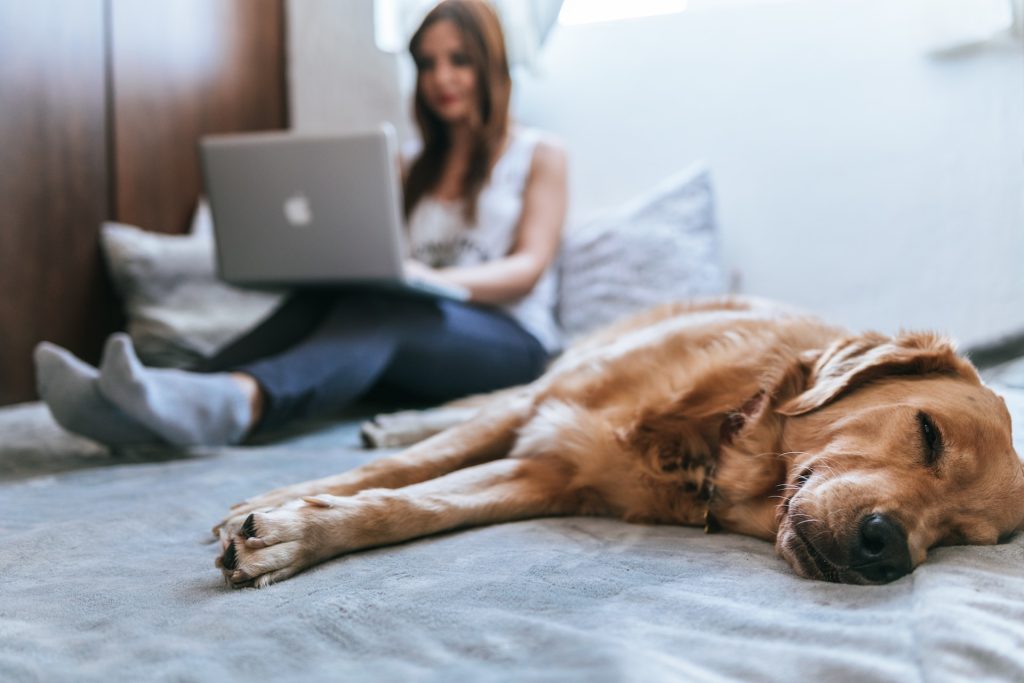 8. Take Time Out for You
Remember to look after yourself. It's not selfish; it's essential. Studies, like those from the American Psychological Association, say that when we take a break, we feel more relaxed and can handle things better. So, whether it's reading a book, doing a hobby, or just enjoying some quiet, it's crucial for your well-being. When parents feel good, the whole family benefits. Taking these moments for yourself helps you come back to your family and work with more energy and a clearer mind. A happy parent means a happier home.
9. Rise Early or Stay Up Late
Everyone has a time when they feel most alert and focused. Some studies, like one from the Journal of Biological Rhythms, show that working during your "peak hours" can boost your output and creativity. For some, the calm of early mornings is perfect for getting things done. Others might find they work best in the peace of late nights. Choosing these quiet times can be really helpful for parents working from home. It gives a chance for deep focus without distractions. So, figure out when you're at your best and make the most of it.
10. Meal Prep Like a Pro
Planning meals ahead isn't just about eating healthily. It's also a smart move to save time and money and cut down on daily stress. A study from the American Journal of Preventive Medicine found that people who spend more time prepping meals at home tend to have healthier diets. Setting aside time on the weekend to plan and prepare meals means less guessing during the week about "what's for dinner." It also means fewer rushed meals and more time to relax or spend with your kids. So, think ahead and make mealtime smoother for you and your family.
11. Schedule Tiny Breaks
Taking short breaks is more helpful than you might think. According to the Journal of Applied Psychology, taking quick breaks can keep you focused and stop you from feeling worn out. So, why not fit in a fast stretch or grab a snack? These short pauses can give your brain a chance to reset and recharge. And for parents, it's a perfect moment to share a smile or a quick story with your kids. By adding these mini-breaks into your day, you can keep your energy up, balance work and family time better, and make sure you're fully there for both.
12. Tech-Free Zones
From phones to laptops to tablets, it's easy to get caught up in the virtual world. However, too much screen time can be overwhelming and disconnect us from the real world around us. Establishing tech-free zones or specific times in your home can be a breath of fresh air. These zones or periods offer a break from the constant notifications, emails, and online buzz, allowing everyone in the family to reconnect with each other and their surroundings. Taking a step back from digital devices, even just for a little while, can rejuvenate the mind and strengthen family bonds, making it a healthy habit worth incorporating.
13. Get the Kids Onboard
Involving children in household tasks can be a win-win for everyone. Not only does it ease some of the daily burdens for parents, but it also imparts valuable life skills to the kids. When children are given small responsibilities, they feel a sense of purpose and accomplishment. It nurtures their sense of responsibility, teamwork, and the understanding that every member plays a crucial role in the family unit. Simple chores like tidying up toys, setting the table, or watering plants can be both fun and educational for them. Furthermore, these shared tasks can be a bonding experience, fostering a spirit of cooperation and mutual appreciation within the family.
Conclusion
Merging the demands of a professional life with the responsibilities of parenting at home is undeniably a balancing act. However, it's not an impossible task. With the right approach, a sprinkle of patience, and the guidance provided in this piece, parents can find a rhythm that works. As we embrace this blended lifestyle, it's essential to remember that every challenge faced is an opportunity for growth. So, with every hurdle, parents are not only evolving as professionals but also enriching their bond with their children.
FAQs
1. Why is having a designated workspace at home essential?
A dedicated workspace serves as both a mental and physical cue. Mentally, it conditions the brain to enter a professional mode, distinguishing between relaxation and work times. Physically, it provides a distraction-free environment optimized for productivity. Over time, this separation ensures a better work-life balance, allowing individuals to be fully present in whichever zone they're in.
2. How can adjusting traditional work hours benefit work-from-home parents?
Traditional work hours may not align with a parent's peak productivity or a child's schedule. By customizing work hours, parents tap into their most energetic periods, leading to improved efficiency. Aligning tasks with children's quiet times, like naps, ensures fewer interruptions, creating a win-win situation of productivity and attentive parenting.
3. Are longer interactions always better for quality time with children?
While extended interactions are valuable, it's the authenticity and depth of connection in shorter moments that leave lasting impressions. Brief yet heartfelt interactions, filled with genuine attention and presence, can enrich emotional bonds. It's about the intensity and quality of the engagement, not just the time spent.
4. How can discussing my profession with my children be beneficial?
Opening dialogues about your job offers multifaceted benefits. It piques children's curiosity about the professional world, offering learning moments. Furthermore, it promotes understanding, making kids more respectful of work boundaries. Importantly, through discussions, parents can weave in life lessons about values, ambition, and perseverance.
5. What's the concept behind task batching, and how can it help?
Task batching involves consolidating similar tasks, reducing the mental strain of continuously shifting gears. By grouping alike tasks, you minimize the cognitive disruptions that come with multitasking. For busy parents, this technique is a lifesaver, streamlining processes, and maximizing efficiency, which ultimately frees up more family time.
6. Why might someone choose to work early in the morning or late at night?
Early mornings and late nights often promise serenity, making them conducive for focused work. Beyond this, individuals have personal productivity rhythms. Aligning work with these natural peaks ensures optimal output. For parents, these hours can also coincide with kids' quiet times, resulting in uninterrupted work phases.
7. How can meal-prepping aid work-from-home parents?
Meal prepping is a proactive approach to nutrition and time management. By organizing meals in advance, parents eliminate the daily decision-making stress around meals. This foresight ensures healthful family meals while freeing up weekday hours. It's a proactive way to maintain health and gain time, streamlining the juggling act of parenting and working.
8. What's the value of scheduling short breaks throughout the workday?
Micro-breaks act as mental rejuvenators. During intensive tasks, these short pauses can prevent burnout, maintain steady energy, and boost overall productivity. For parents, these breaks double as opportunities to bond with children, striking a balance between professional responsibilities and precious family moments.
9. Why should families consider tech-free zones?
Tech-free zones advocate for present living. In our digitally dominated world, these zones offer respite, encouraging real-life interactions and deeper familial bonds. Periodic digital detoxes foster mindfulness, help maintain mental well-being and remind families of the irreplaceable value of face-to-face conversations and connections.
10. How can getting kids involved in household tasks be beneficial for both parents and children?
Engaging children in chores isn't just about lightening parental workload. It's an educational tool, that teaches responsibility, life skills, and teamwork. For children, it fosters a sense of accomplishment and belonging. For parents, it's a dual benefit of getting help while imparting essential life lessons.
11. What's the idea behind connecting with fellow parent-warriors?
Networking with other working parents is a support mechanism. It creates a community where shared experiences and coping strategies are exchanged. Knowing one isn't alone in the work-parenting balancing act offers emotional solace. This sense of belonging and understanding makes challenges more navigable and victories all the more enjoyable.