In a world where data security is of paramount importance, businesses and individuals alike are seeking effective methods to protect their sensitive information. This is where shredding services play an important role for every business. Shredding services offer a secure and reliable solution for disposing of confidential documents and data. Delve into the depths of shredding services, shedding light on their significance and benefits.
What is Shredding Services?
Shredding services refer to the professional and systematic destruction of sensitive documents and data, ensuring that they cannot be reconstructed or accessed by unauthorized individuals. These services use state-of-the-art shredding machines that convert documents into tiny, indistinguishable pieces, rendering them virtually impossible to piece back together. Shredding services can be classified into two main categories: On-site shredding and off-site shredding. On-site shredding involves shredding documents at the client's premises, while off-site shredding entails transporting documents to a secure shredding facility for destruction.
The Importance of Shredding Services
In a world dominated by cyber threats and identity theft, the significance of shredding services cannot be overstated. Some key reasons why shredding services are essential.
Data Protection and Security
Shredding services provide a robust shield against data breaches and identity theft. By destroying sensitive information completely, businesses and individuals can ensure that their data remains confidential.
Legal Compliance
Many countries have data protection laws and regulations that mandate the secure disposal of sensitive information. Shredding services help organizations comply with these laws, avoiding potential legal repercussions.
Preventing Corporate Espionage
Businesses often deal with confidential information, trade secrets, and competitive data. Shredding these documents prevents corporate espionage and safeguards a company's intellectual property.
Environmentally Friendly
Shredded paper is often recycled, contributing to a greener environment and sustainable practices. Shredding services are essential for the environment friendly.
Building Trust
When customers and clients see a business prioritizing data security through shredding services, it enhances their trust in the organization.
How do Shredding Services Work?
Shredding services employ advanced technology and efficient processes to ensure secure and reliable document destruction.
Document Collection: The shredding service provider collects sensitive documents from the client's location, following a pre-scheduled or on-demand pickup.
Transportation: In the case of off-site shredding, the documents are securely transported to the shredding facility, maintaining a chain of custody throughout.
Shredding Process: The documents are fed into powerful shredding machines that efficiently reduce them to tiny confetti-like pieces.
Certificate of Destruction: After the shredding process is complete, the shredding service provider issues a Certificate of Destruction, providing legal proof of compliant document disposal.
On-Site vs. Off-Site Shredding: Which is Right for You?
Both on-site and off-site shredding methods have their own set of advantages. Understanding your specific needs can help you make an informed decision:
On-Site Shredding
Immediate Destruction: Witness the shredding process firsthand, ensuring your documents are destroyed immediately.
Convenience: The shredding service comes to your location, saving time and effort.
Security: Confidential documents remain on-site until the moment of destruction.
However, on-site shredding might be less suitable for extremely large volumes of documents or locations with limited space.
Off-Site Shredding
High Volume: Suitable for large quantities of documents, making it cost-effective for bulk shredding.
Specialized Equipment: Off-site facilities often have more advanced shredding machinery.
Environmental Sustainability: Service providers handle recycling, promoting eco-friendly practices.
Yet, off-site shredding might take slightly longer due to transportation time.
Advantages of Shredding Services for Businesses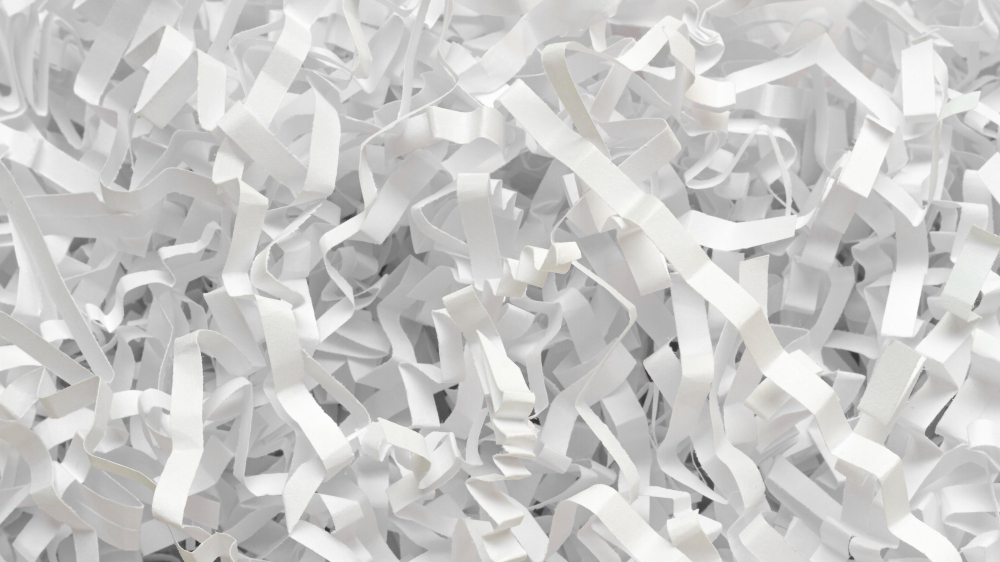 Protection against Data Breaches: Businesses handle a vast amount of sensitive data, from financial records to customer information. Shredding ensures that this data does not fall into the wrong hands.
Compliance with Regulations: Many industries have strict regulations, such as HIPAA in healthcare or GDPR in Europe. Shredding services help maintain compliance with these data protection laws.
Cost-Effectiveness: Outsourcing shredding is often more cost-effective than dedicating internal resources to the task.
Focus on Core Competencies: By entrusting document destruction to professionals, businesses can concentrate on their primary operations.
Risk Mitigation: Shredding services mitigate the risk of information leaks, preserving a company's reputation and trust.
Choosing the Right Shredding Service Provider
Selecting the right shredding service provider is crucial to ensure top-notch data security. Consider the following factors.
Experience and Reputation: Look for providers with a proven track record of excellence and positive customer reviews.
Security Measures: Inquire about the security protocols they follow during the shredding process.
Compliance and Certifications: Ensure the provider adheres to relevant industry standards and holds necessary certifications.
Customizable Services: Opt for a provider who can tailor their services to your specific needs.
Environment-Friendly Practices: Choose a shredding service that emphasizes recycling and sustainable practices.
FAQs
What types of documents should be shredded?
Any document containing sensitive information, such as financial records, medical records, legal documents, customer data, or proprietary information, should be shredded.
How often should a business use shredding services?
The frequency of shredding depends on the volume of sensitive documents generated. Regularly scheduled shredding or on-demand services are available based on the business's needs.
Can shredded documents be recycled?
Yes, shredded paper is highly recyclable and contributes to eco-friendly practices.
Is on-site shredding more secure than off-site shredding?
Both methods offer high-security standards, but on-site shredding allows you to witness the destruction process firsthand, which some businesses find reassuring.
How do shredding services comply with data protection laws?
Reputable shredding service providers adhere to strict protocols and issue Certificates of Destruction as proof of compliant document disposal.
Are there any alternatives to shredding for document disposal?
While shredding is the most secure method, some businesses may opt for pulping or incineration. However, these methods may not provide the same level of security and recycling benefits as shredding.
Conclusion
Shredding services play a critical role in safeguarding sensitive information and protecting businesses and individuals from data breaches and identity theft. Whether it's on-site or off-site shredding, the process ensures documents are destroyed beyond recognition, complying with data protection laws and promoting environmental sustainability through recycling. Don't compromise your data security. Choose a reputable shredding service provider to fortify your information protection strategy and gain peace of mind knowing your confidential documents are in safe hands.