The world is fast moving towards speed and efficiency; companies that can't cope with the pace will lose clients. Teams must find innovative ways to effectively collaborate and streamline projects to enhance productivity and reduce costs.
The advent of the internet opened the world to collaborate in ways we haven't fully comprehended. Several organizations have to deal with sophisticated teams whose members are all over the world. It takes more than occasional e-mails to keep all team members working for and not against the group.
It is critical for large and small businesses to invest in tools that bring everyone on the team together and keep them working towards the same goal. You cannot have your team all over the internet and expect to accomplish much. A good project management app will gather your dedicated soldiers in one place where you can deploy them for specific missions.
Benefits of project management apps
It fosters collaboration among teams. Everyone has access to material related to the project because it is in one place. Members can easily share documents and other forms of data for different tasks.
You can track the progress of different projects from start to finish and get critical insights like costs and time spent on each task. Such data help plan future projects.
It simplifies resource management. You can track what each team member is working on and be in a good position to accurately determine the productivity level of respective members' respective members.
What to consider when choosing project management apps for your team
There are several project management apps on the market. Every app claims to have solutions to some of the project management challenges you face. If you are not careful, you'll end up with a substandard app that'll demoralize the team and slow down the project.
Get an app with dedicated technical support and maintenance. Technical glitches are constant visitors where technology is involved. Excellent support teams ensure such problems are fixed promptly to limit inconveniences brought by disruptions.
How versatile is the application? Does it integrate with other collaboration tools like file sharing sites, calendars, etc.? No app is an island. Features can enhance the functionality of one app from another app.
Is it compatible with the different gadgets your team members use? Most apps support Android, Windows, and iOS operating systems.
Are your team members technically knowledgeable about utilizing different features offered by the app? Most apps don't require special training for someone to use them. However, there are a few complicated ones that need you to have some level of technical skills.
The price of the project management app matters a great deal. It should be within your budget. The cost of most applications starts from about $2.5.
Does it have all the core features you need in the app? There are basic features most collaboration apps contain. However, sophisticated functionalities are only offered by more advanced apps.
11 Top Project Management Apps For Small Business Owners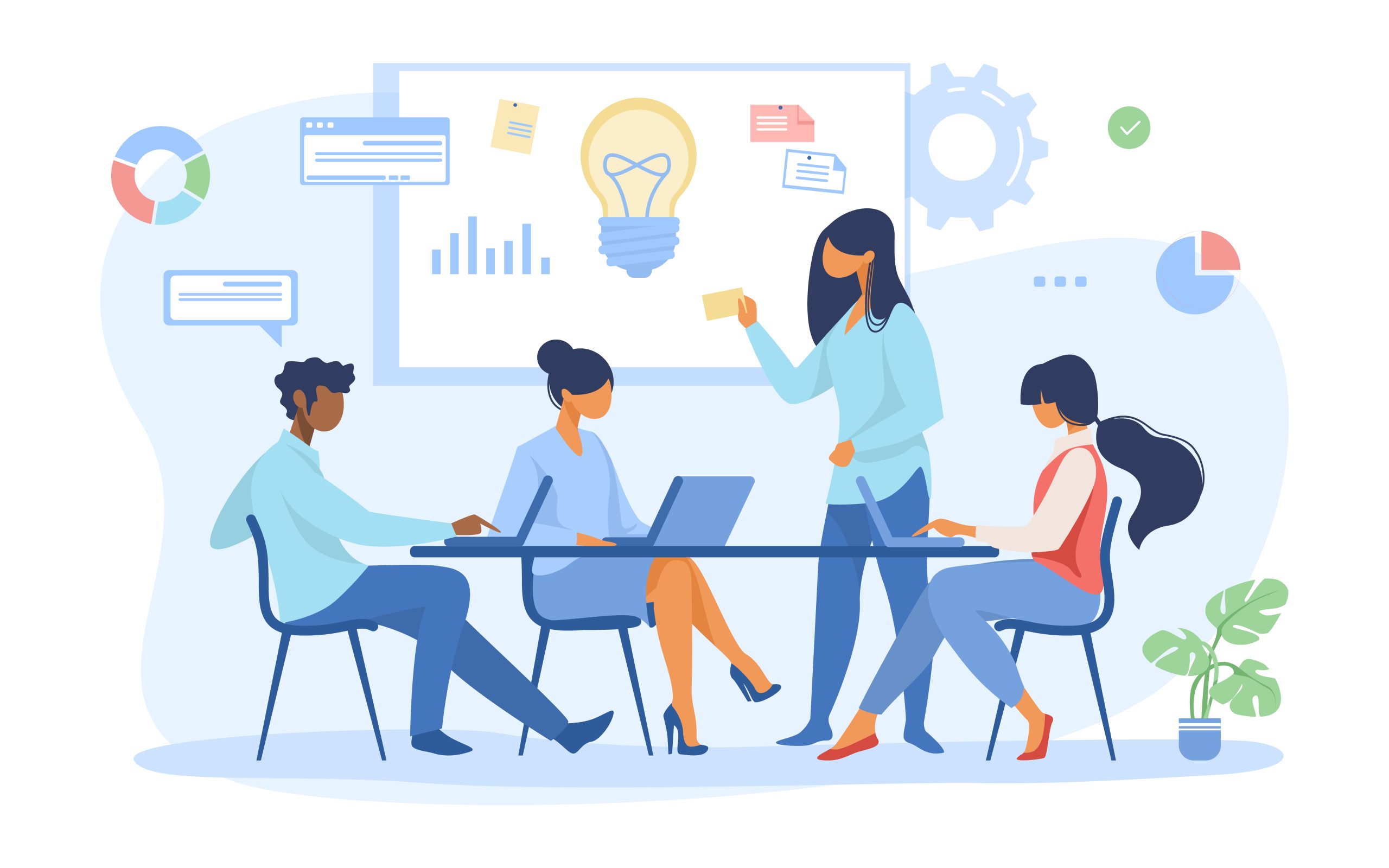 ClickUp
Whether you have a large team of over a hundred people or a small group of less than five, ClickUp has the necessary features to streamline your operations and keep the team working together. It is a cloud-based application that enables users to collaborate on different projects.
Pros
Tasks can be assigned and tracked within the app.
Team members can comment on specific tasks and communicate with each other within the app.
All material (documents and other files) related to the project can be placed in one place for everyone to access readily.
It gives you the flexibility to update the status of respective tasks.
The team members can share files and view what others are doing.
Cons
It contains many features which may be confusing to some users.
Price
You may try it for free for 30 days after it is $5 per user each month.
Awork
organizations require teams to collaborate on different operations and may require tools with specific functionalities. Awork is a versatile app with features for time management, task scheduling and tracking, task automation, and other essential project management functionalities.
Pros
keep track of all assignments using the task scheduler and time management feature.
You can easily assign specific tasks to respective team members.
It is easy to keep track of the performance of different members of the team.
It is user-friendly; anyone with basic computer skills can use it.
Cons
You cannot use it offline
It has limited features compared to some top apps.
Price
Each user must pay 12 Euros per month.
Monday.com
Most workers hate Mondays for understandable reasons. But regarding project management tools, Monday is the go-to app when you want to help your team get things done. It boasts Kanban integration, task alerts, and notification, automation capabilities, e.t.c.
Pros
It has incredible customization capabilities
Repeated tasks within the app can be automated
The app marketplace allows you the opportunity to add essential features.
Cons
Confusing navigation options
Price
It has several plans, which may be confusing. However, it starts at $39
Teamwork
It has features that enable team members to import data, organize tasks, and automatically time tasks, and it is compatible with many other essential productivity applications.
Cons
Teamwork is not very user-friendly; members may need time to understand how to use different features.
It is costly for people working on a tight budget.
You cannot use it without an internet connection.
Toggl Plan
It was first called Team week. You'll have access to calendar management, API functionalities, and task management.
Pros
The timeline feature simplifies navigation and can also help clients keep track of how the project is going.
Price
Single users have free access. The Premium version starts at 13.35 per user each month.
Meister
Meister has similar features to most project management tools; however, most parts are highly customizable. Essential features include activity dashboards and tracking, task alerts and notifications, and task management.
Pros
Alerts and notifications help you to keep track of deadlines
It is user-friendly, and some features can be customized depending on your needs.
Cons
There is no inbuilt calendar
It is difficult for members to share files within the app
Price
It has a free version with limited features. Paid plan starts at $8.25
Asana
Project management applications that can be integrated with other tools without much difficulty are desirable. Asana is one of them.
Pros
Team leaders and project managers can assign tasks proportionally using the workload feature.
A comprehensive user guide and online support are helpful for beginners.
Cons
it has limited time management and task tracking feature.
Price
You may access the limited version for free. The business plan starts at $7.99 per month.
Freedcamp
If you are looking for a simple project management app with no bells and whistles, this app is for you. It has a task scheduler, Kanban, an inbuilt calendar, etc.
Pros
It is easy for team members to share files and other project materials
It has features that allow you to upload documents and images
Price
It is free
Zoho projects
Few project management apps offer flexibility in scheduling projects like Zoho projects. It has features that enable you to change dates whenever situations demand.
Pros
You can allot specific hours for different tasks each day.
It facilitates communication between team members within the app.
Cons
It doesn't come with pre-made templates
Trello
If you want to streamline workflows with a highly customizable app, your search may end with Trello. Trello is one of the best Project Management Apps that can use by Small Business Owners and this can help to manage projects.
Pros
Provides applications for both desktop and mobile devices
Very intuitive user interface
Cons
Limited functionality; however, you may add some features like time tracking.
Price
The paid plan starts at $12.5 each month
Omni Plan
It boosts essential features like milestone tracking, project scheduling, cost tracking functionalities, etc.
Pros
Alert and notification features simplify the tracking of tasks
It supports several languages
It is easy for team members to share files and collaborate on projects.
Conclusion
Managing a team of employees in the office or remotely can be very challenging. You need a set of tools to streamline projects. You want to put every data and material related to the project in one place where everyone can easily find it. You can only do that with the help of project management apps that have features that enhance collaboration.