In an era dominated by multimedia and digital immersion, the simple act of watching a video is no longer a passive experience. Interactivity has emerged as a key ingredient in enhancing the effectiveness of educational and training videos, taking viewers from mere spectators to active participants in their learning journey.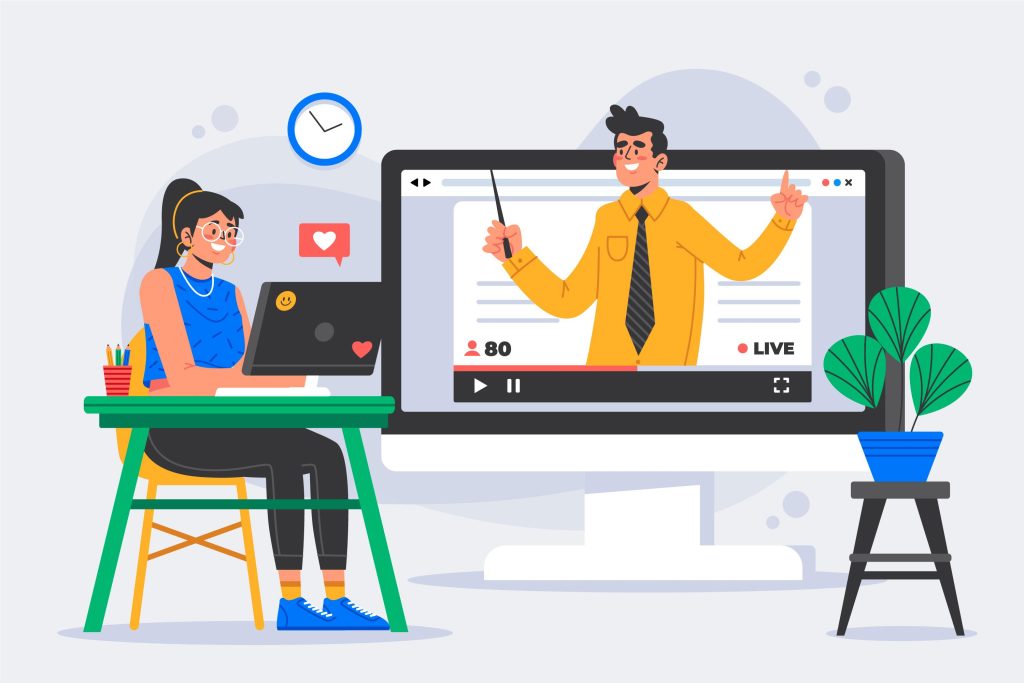 1. Elevating Engagement Levels
In today's fast-paced digital age, sustaining a viewer's attention is akin to striking gold. Traditional lecture formats, with their one-way communication, often struggle to retain the viewer's interest, leading to significant knowledge gaps. Enter interactive videos: these modern marvels of education technology utilize dynamic elements like clickable options, drag-and-drop activities, and instant query resolutions.
Such interactivity doesn't just hold a viewer's gaze; it actively involves them in the learning process. When learners play a hands-on role in their education, the content doesn't just pass before their eyes; it embeds itself in their minds, enhancing comprehension and recall.
2. Personalized Learning Paths
Remember the days of standardized classroom lessons where everyone received the same content, regardless of their prior knowledge? Those days are fading, thanks to interactive videos. These modern tools herald a new era where learning is tailored to individual needs. Instead of a generic lesson plan, users can chart their unique learning journey.
If a topic is familiar, skip it; if a concept is tricky, delve deeper. By giving learners this autonomy, interactive videos respect the varied pacing and styles of individual learners. In doing so, they ensure that education is a tailored suit, not a one-size-fits-all garment.
3. Immediate Feedback
Gone are the days when students handed in assignments and waited with bated breath for feedback. In the digital realm, interactive videos are revolutionizing the feedback loop. Imagine attempting a math problem within a video and instantly knowing if your approach was correct. Or picture watching a language lesson and immediately getting corrected on pronunciation.
This immediacy of feedback isn't just convenient; it's transformative for learning. By instantly pointing out areas of improvement, learners can course-correct on the spot, solidifying their understanding. Moreover, for educators, this instant data is invaluable, highlighting content areas that may need more clarity or emphasis.
4. Enhancing Repetition and Practice
The age-old adage, "Practice makes perfect," holds immense truth, especially in the realm of education. Traditional learning methods often miss out on offering learners the chance for repeated practice. However, with interactive videos, this gap is bridged seamlessly. These videos can embed numerous practice sessions within their content, enabling viewers to engage in repetitive tasks or revisit complex questions.
This constant engagement, paired with immediate feedback, ensures that learners not only understand the material but also master it. As they repeatedly tackle challenges and refine their approach, they reinforce their knowledge, leading to long-term retention and skill enhancement.
5. Enabling Real-world Simulation
The real strength of a learning tool lies in its ability to mimic real-world scenarios, allowing learners to apply theoretical knowledge practically. Interactive videos excel in this aspect. Particularly in skill-based training, these videos can recreate lifelike environments for learners to navigate.
Imagine learning software development through a video that offers a simulated coding environment. Or consider a medical training video that virtually places students in an operating room. Such simulations empower learners to hone their skills without real-world repercussions, ensuring they are well-prepared when they encounter similar situations in reality.
6. Augmenting Traditional Learning Materials
While interactive videos are a powerhouse in themselves, their true potential is unlocked when they act as a gateway to a plethora of other learning resources. These videos can effortlessly connect learners to supplementary materials like eBooks, detailed articles, or insightful podcasts. With embedded QR codes or clickable links, a simple video can open doors to a vast universe of knowledge.
For instance, a history video on World War II could link to memoirs, audio interviews, or in-depth articles. This amalgamation of varied resources ensures that learners receive a holistic, well-rounded education, making their learning journey both comprehensive and enlightening.
7. Encouraging Critical Thinking and Decision Making
In the vast ocean of information, the ability to critically analyze and make informed decisions stands as a crucial life skill. Interactive videos serve as a beacon in this regard. By presenting learners with real-life scenarios and dilemmas, these videos challenge them to evaluate situations, consider various solutions, and make decisive choices.
For instance, a business ethics video might simulate a scenario where viewers decide how to address a workplace conflict. Such engagements aren't just about selecting an option; they cultivate a mindset where learners actively assess implications, predict consequences, and cultivate an analytical approach. Over time, this nurtures both decision-making prowess and critical thinking abilities.
8. Boosting Motivation and Confidence
The road to learning is paved with challenges, but with the right encouragement, these challenges transform into stepping stones. Interactive videos have mastered the art of motivation. As learners interact with content, they often receive affirmations, rewards, or recognitions—be it in the form of digital badges, unlocked levels, or simple positive reinforcements.
Such recognitions act as a pat on the back, bolstering a learner's self-confidence. Knowing they've achieved a milestone or mastered a concept, learners are more inclined to persevere, explore further, and delve deeper into subjects. This heightened motivation and confidence ensures not just content absorption, but also a love for lifelong learning.
9. Increasing Accessibility and Inclusivity
Education's true essence is realized when it embraces all, irrespective of their abilities or limitations. In this context, interactive videos are emerging as champions of inclusivity. With features like subtitles for the hearing impaired, voiceovers for those with reading challenges, or alternate audio tracks for non-native speakers, these videos cater to a diverse audience.
By acknowledging and addressing varied needs, interactive videos ensure that the barriers to learning are minimized. Everyone, from a person with dyslexia to someone with visual impairments, can access, interact with, and benefit from the content. This democratization of learning is pivotal in creating inclusive educational environments where every individual thrives.
10. Enhanced Retention and Recall
In the realm of education, the act of "doing" often trumps the act of "seeing." Interactive videos masterfully tap into this principle. By introducing elements that demand viewer participation—like polls, quizzes, or clickable resources—these videos ensure that learning isn't just a passive intake of information. Instead, it becomes an immersive experience.
Engaging directly with the content fosters a deeper connection, ensuring that details are not just skimmed over but are embedded in memory. This active engagement translates to improved retention, ensuring that when the time comes to recall information, learners can do so effortlessly.
11. Bridging the Practical Application Gap
Theory and practical application often stand on opposite banks of the learning river. Interactive videos serve as the bridge connecting them. By simulating real-life situations, these videos offer a virtual playground for learners to apply theoretical knowledge.
Imagine a video where users decide how to treat a virtual wound or how to handle a simulated business crisis. Such experiences, though virtual, offer a taste of real-world challenges. By navigating these scenarios, learners are better equipped to handle similar situations in reality, ensuring that their education is not just theoretical but also applicable.
12. Analytical Insights for Educators
Beyond the visible screen of an interactive video lies a treasure trove of data. Each click, pause, or interaction by a learner can be tracked, recorded, and analyzed. For educators, this data is invaluable. It offers a lens into learner behavior—highlighting which segments captivate attention, which sections pose challenges, or which topics might need revisiting.
By scrutinizing these insights, educators can refine their content, tailoring it to address specific learner needs and ensuring that the educational material is continually optimized for maximum impact.
13. Encouraging Peer Interaction
Learning, at its core, is a communal activity. While individual study has its merits, the magic often happens in discussions, debates, and collaborative endeavors. Modern interactive video platforms recognize this and incorporate features that promote peer interaction.
Be it a comment section beneath a video lecture or real-time discussion threads during a live stream, these platforms offer learners spaces to voice opinions, share insights, and seek clarifications. This communal learning approach not only enhances understanding but also fosters a sense of belonging, turning the learning journey into a collaborative adventure.
Conclusion
The role of interactivity in educational and training videos is transformative. It not only revitalizes the learning experience but also ensures content is understood, retained, and applied effectively. As technology continues to evolve, it's evident that the future of education and training will be deeply intertwined with interactive multimedia, offering a richer, more engaging, and effective learning landscape.