Take a moment and imagine the fresh, invigorating air of a clear morning. Now, contrast this with the harsh, acrid smoke from a cigarette. This smoke is more than just an unpleasant scent; it's a dense cloud of trouble for our mouth's health. Our mouths are the frontlines where smoke first settles, starting a silent war on our gums, teeth, and inner cheeks. It's here that the first signs of damage emerge, often unnoticed until it's too late.
This article aims to shine a light on smoking's stealthy assault on our oral well-being. We'll unpack how the smoke from cigarettes can turn a healthy mouth into a hotspot for dental disasters. With each puff, smokers aren't just dimming their breath; they're dimming the health of an often-overlooked part of their body that's vital to their overall health.
The Composition of Cigarettes and Oral Exposure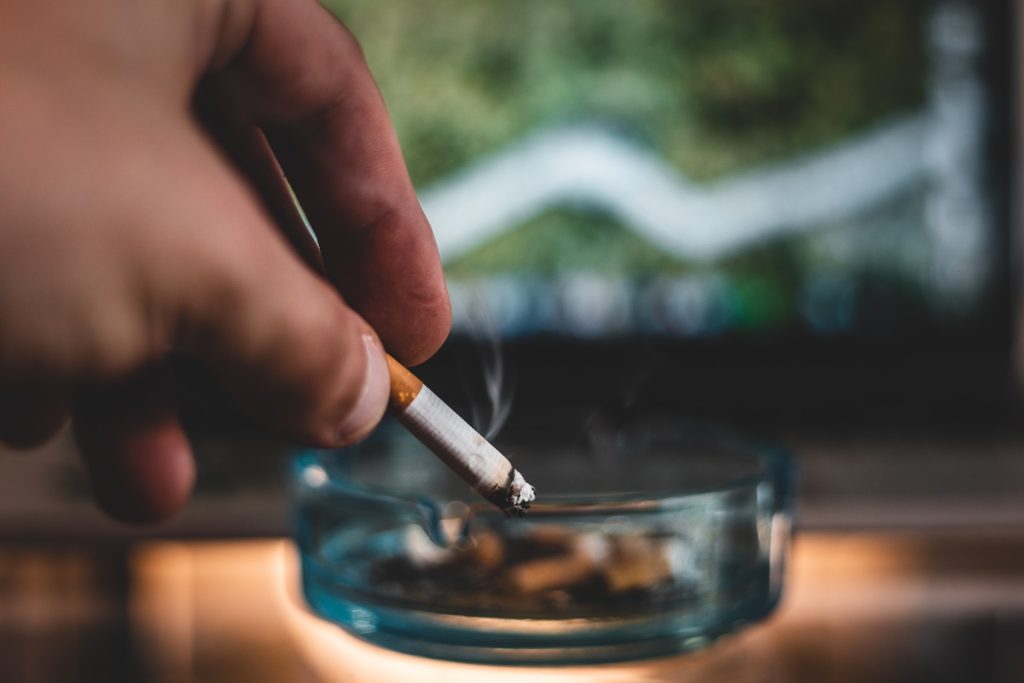 Cigarette smoke is a complex amalgam of over 7,000 chemicals, many of which are toxic and have deleterious effects on the oral cavity. Key offenders include nicotine, a vasoconstrictor that impairs blood flow, tar, a carcinogenic residue that adheres to oral surfaces, and carbon monoxide, which hinders the transport of oxygen in the bloodstream. When inhaled, these substances directly assault the oral mucosa, precipitating a cascade of cellular disruption. Nicotine reduces salivary flow, fostering a dry environment conducive to bacterial proliferation.
Tar deposits, meanwhile, are implicated in tissue discoloration and the diminishment of the immune response within periodontal tissues. Carbon monoxide's interference with oxygen delivery exacerbates the anaerobic conditions, under which pathogenic bacteria thrive, accelerating periodontal degeneration. The intricate interplay between these toxicants and the oral environment sets the stage for a spectrum of oral health issues, from aesthetic concerns to serious disease processes.
The Direct Impact of Smoking on Oral Tissues
The adverse effects of smoking on oral tissues are manifold and significant. Dental discoloration is one of the most visible manifestations, with the potent chemicals in tobacco smoke, particularly tar, and nicotine, leading to stubborn stains on the enamel. Beyond aesthetics, smokers face an elevated risk of caries due to the smoke-induced alteration of oral pH and the consequent acceleration of plaque formation. This plaque, if not meticulously removed, calcifies into tartar, a hardened substance that contributes to gum inflammation.
Chronic exposure to tobacco smoke exacerbates the condition known as gingivitis and can progress to periodontitis, a severe gum disease that undermines the supporting structures of the teeth, culminating in tooth mobility and potential loss. Additionally, the detrimental impact on salivary glands often results in xerostomia or dry mouth, which diminishes the natural cleansing action of saliva, thus compounding the risk of dental decay and gum disease. The synergy of these effects underscores the profound vulnerability of oral tissues to smoking-related harm.
Smoking-Related Oral Diseases
The nexus between smoking and oral diseases is well-documented, with smokers significantly more susceptible to a range of serious conditions. The insidious nature of tobacco smoke transforms the oral cavity into fertile ground for oral cancer, a grave health concern with a notably high mortality rate. Carcinogens in smoke directly mutate the DNA in oral cells, precipitating malignant changes. Moreover, the habit is strongly linked to the development of leukoplakia—thickened, white patches inside the mouth that can become precancerous. Its counterpart, erythroplakia, characterized by red, raised lesions, also poses a risk for malignant transformation.
Another smoking-induced malady is nicotine stomatitis, a condition marked by inflammation of the mouth's roof, which can become irritated and peppered with red dots due to heat from inhaled smoke. Smoker's melanosis is another condition, where the oral mucosa exhibits increased pigmentation, typically a benign alteration but indicative of the body's reaction to the toxins in tobacco.
Collectively, these diseases not only compromise oral function and aesthetics but also serve as harbingers for systemic health issues. The increased risk for these diseases among smokers underscores the urgent need for cessation interventions as part of comprehensive oral healthcare.
Smoking and Its Effects on Dental Treatments
Smoking's deleterious effects significantly compromise the efficacy and outcomes of various dental treatments. It is well-established that smoking impedes blood flow, which is critical for healing. Consequently, smokers often experience slower recovery times and a higher incidence of complications following oral surgeries, such as tooth extractions or periodontal procedures.
The integration of dental implants, a common restorative treatment, is notably jeopardized in smokers. Osseointegration, the process whereby an implant fuses with the jawbone, is severely hampered by the compromised blood supply and the altered bone metabolism associated with smoking, leading to a higher failure rate of implants in this population.
Furthermore, smokers are more susceptible to infections post-operatively, which can lead to poor wound healing and a greater risk of implant loss. The diminished immune response in the oral environment of smokers also affects the longevity of other dental restorations, such as fillings, crowns, and bridges, which may fail prematurely due to recurrent decay or periodontal issues.
The negative impact of smoking on treatment outcomes necessitates a proactive approach by dental professionals, who must emphasize the importance of smoking cessation and consider the smoking status of patients when planning and executing dental treatments.
Smoking Cessation and Oral Health Recovery
The cessation of smoking presents a monumental shift toward the rejuvenation of oral health. The benefits are both immediate and long-term, initiating a recovery process that can reverse some of the damage wrought by tobacco use. Once smoking is discontinued, the blood flow to the oral tissues improves, enhancing the delivery of nutrients and oxygen essential for cellular repair and regeneration.
Within days to weeks of quitting, smokers may notice an improvement in breath freshness, a reduction in oral mucosal staining, and a decrease in gingival bleeding. Over time, the risk of oral cancers begins to decline, and the incidence of gum disease decreases, with the gums gradually regaining a healthier appearance and firmer texture.
For those undertaking dental treatments, smoking cessation is particularly beneficial. Not only does it increase the success rate of procedures such as implants and periodontal therapy, but it also contributes to a more favorable prognosis for long-term oral health. Dental professionals play a pivotal role in this journey by offering resources for smoking cessation, including counseling, pharmacotherapy, and referrals to specialized programs.
The restoration of oral health following smoking cessation is a testament to the body's remarkable ability to heal, providing a compelling incentive for smokers to embrace a tobacco-free lifestyle. With each smoke-free day, the mouth is better poised to fight infection, heal more efficiently, and exhibit resilience—hallmarks of a robust and healthy oral cavity.
Conclusion
When the smoke clears, what's left is a stark reality: smoking is a menace to our mouth's health. It's not just about bad breath or yellowed teeth; it's about protecting ourselves from the deep, lasting harm tobacco can cause. By putting out cigarettes for good, we give our mouths a fighting chance to heal and thrive. It's about making a choice for health, for the power of a pain-free smile, and for the joy of tasting life without the bitter taint of tobacco. Ending smoking doesn't just freshen our breath; it breathes new life into our oral health. So let's make the choice to turn away from tobacco and towards a future where our smiles reflect a commitment to living well and fully.
FAQs
1. How does smoking affect my teeth?
The act of smoking bathes teeth in chemicals like nicotine and tar, which not only cause a visible yellow-brown discoloration but also contribute to the development of dental plaque. This plaque, if not meticulously cleaned, calcifies into tartar, a hard deposit that brushing alone won't remove. The alteration in saliva quality and quantity increases the risk for cavities, as the protective buffering and washing effects of saliva are diminished, leaving tooth enamel more vulnerable to decay.
2. Can smoking cause gum disease?
Smoking is a primary risk factor for gum disease. The toxins from cigarette smoke infiltrate the gum tissue, causing inflammation and an unfavorable immune response. This damage is compounded by the fact that smoking constricts blood vessels, reducing blood flow and oxygen to the gum tissues, which are crucial for healing and maintaining healthy gums. As a result, smokers often experience a more rapid progression of gum disease, which can lead to tooth loss if left unchecked.
3. Is smoking related to oral cancer?
Smoking is closely linked to the development of oral cancer. It introduces a cocktail of carcinogens directly to the mouth, where they can cause mutations in the DNA of cells lining the oral cavity. This cellular damage accumulates over time, significantly increasing the risk of developing cancerous lesions. The risk is dose-dependent, meaning the more you smoke and the longer you smoke, the higher the risk of these malignant changes occurring.
4. Does smoking only affect my oral health if I've been doing it for a long time?
No, smoking affects oral health from the very beginning. Short-term effects like bad breath, tooth discoloration, and an altered oral microbiome can happen quickly. These immediate impacts lay the groundwork for more severe conditions down the line. Even occasional or social smokers can experience these changes, which can escalate with prolonged tobacco use, leading to serious conditions like periodontal disease and oral cancer.
5. Are the effects of smoking on oral health reversible?
The extent to which the effects of smoking are reversible depends on the duration and intensity of the habit, as well as the presence of irreversible damage. Smoking cessation brings immediate benefits such as reduced inflammation and halitosis. Over time, the risk of severe gum disease decreases, and oral tissues can heal more effectively. Unfortunately, certain consequences, like the development of oral cancer or the significant loss of tooth structure, may not be reversible, highlighting the urgency for early quitting and intervention.
6. Will quitting smoking improve my oral health?
Definitely. When you quit smoking, you give your mouth a chance to heal. The circulation in your gum tissue improves, which reduces inflammation and the risk of periodontal disease. Your oral hygiene will likely get better as you regain the full function of your taste buds and saliva production, making dental care more effective. Moreover, the reduction in carcinogenic exposure decreases the risk of oral cancers, and the overall healing capacity of your mouth improves, aiding in recovery from dental procedures.
7. How does smoking impact the success of dental implants?
Smoking negatively affects dental implant success because it hampers the healing process. The nicotine in tobacco reduces blood flow, impairing the ability of the jawbone to integrate with the implant—a process known as osseointegration. This compromised healing environment increases the risk of infection and implant failure. Smokers may experience longer healing times and have a higher likelihood of complications following implant surgery.
8. If I smoke, will I still be able to get dental treatments?
Yes, smokers can receive dental treatments, but it's crucial to be aware that smoking can introduce complications. It prolongs the healing time after procedures, especially surgeries, and can decrease the overall success rates of treatments like implants, root canals, and periodontal therapies. Dentists may also need to adapt treatment plans for smokers to address the unique challenges posed by the habit.
9. Can smoking cause bad breath?
Smoking is a notorious culprit for chronic bad breath, medically known as halitosis. The smoke particles linger in the mouth, adhering to surfaces and mixing with saliva, creating an environment where bacteria can thrive. These bacteria release foul-smelling compounds. Additionally, smoking dries out the mouth, reducing saliva that would otherwise help cleanse the mouth of food particles and bacteria.
10. Will my dentist be able to tell if I smoke?
Dentists are usually able to identify smokers through oral examinations. Tell-tale signs include nicotine stains on teeth, a characteristic smoker's breath, and certain patterns of oral tissue damage like gum recession and increased calculus buildup. Other indicators can be the presence of leukoplakia—thickened, white patches inside the mouth—and chronic gum disease, both common in smokers.
11. Does smoking affect my sense of taste and smell?
Smoking significantly affects your sense of taste and smell. It causes a dulling of these senses because the chemicals in smoke can alter the taste buds and reduce their sensitivity. Over time, the ability to enjoy the full flavor of food and the subtlety of different aromas can diminish, which can be particularly noticeable with nuanced flavors and scents.
12. Is using smokeless tobacco safer for my oral health than smoking cigarettes?
Using smokeless tobacco is not a safe alternative to smoking cigarettes when it comes to oral health. It contains nicotine and other harmful chemicals that can increase the risk of gum disease, tooth decay, and oral cancer. The abrasive particles in smokeless tobacco can also wear down the surfaces of teeth, leading to dental erosion and sensitivity.
13. How soon after quitting smoking will my oral health start to improve?
You might notice improvements in your oral health within the first few weeks of quitting smoking. Gum sensitivity and inflammation can decrease quickly, and blood flow to your gums will improve, which aids in healing and the reparation of damaged tissues. Over time, with consistent oral hygiene, the risk for severe conditions like periodontitis and oral cancer also decreases.
14. Are there specific oral hygiene tips for smokers?
Smokers should prioritize oral hygiene to counteract the damaging effects of tobacco. This includes brushing twice a day with fluoride toothpaste, flossing daily, and using an antiseptic mouthwash to reduce bacteria. Regular dental check-ups are essential for early detection of problems. Smokers might also benefit from special toothpaste designed to remove tobacco stains and professional dental cleanings more frequently than non-smokers.