In a world increasingly marked by environmental challenges, sustainable living has become more than just a buzzword; it's a necessity. Defined broadly, sustainable living means making choices that reduce one's environmental impact, promoting the well-being of both the planet and its inhabitants. Among these choices, the movement towards eco-friendly homes stands out as one of the most significant. Know everything about green housing and its growing prominence.
Historical Perspective of Sustainable Living
The concept of sustainable living isn't new. Ancient civilizations used earth-friendly materials like mud, straw, and stone to build their homes. However, as societies progressed, construction methods evolved, often at the cost of the environment. The industrial revolution, for instance, heralded an era of carbon-intensive building materials and practices.
It's only in the last few decades that there's been a conscious shift back to sustainable housing. As the environmental impact of traditional homes became evident, especially in the context of climate change, there was a push to return to more earth-friendly ways of living.
What are Eco-Friendly Homes?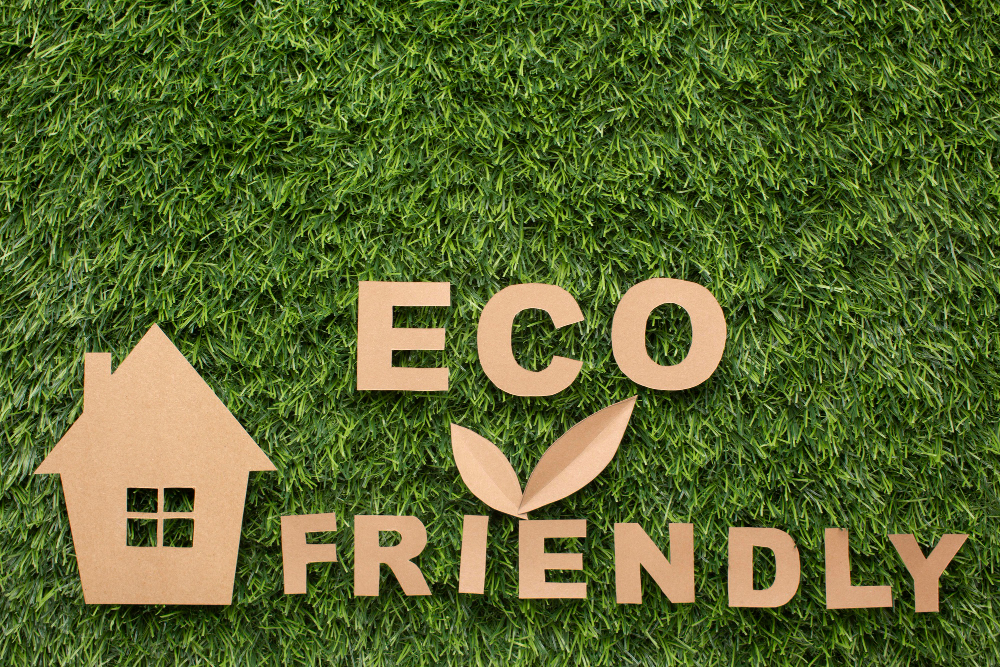 Eco-friendly Homes are houses built with the environment in mind. Think of them as nature-friendly. They use clean energy from the sun or wind instead of harmful fossil fuels. They're designed to save water and reduce waste. The materials used to build them are either recycled or can grow back quickly. Also, they're safe and healthy for the people living inside because they avoid harmful chemicals. Simply put, these homes are all about living in a way that's kinder to our planet and better for us.
Key Features of Eco-Friendly Homes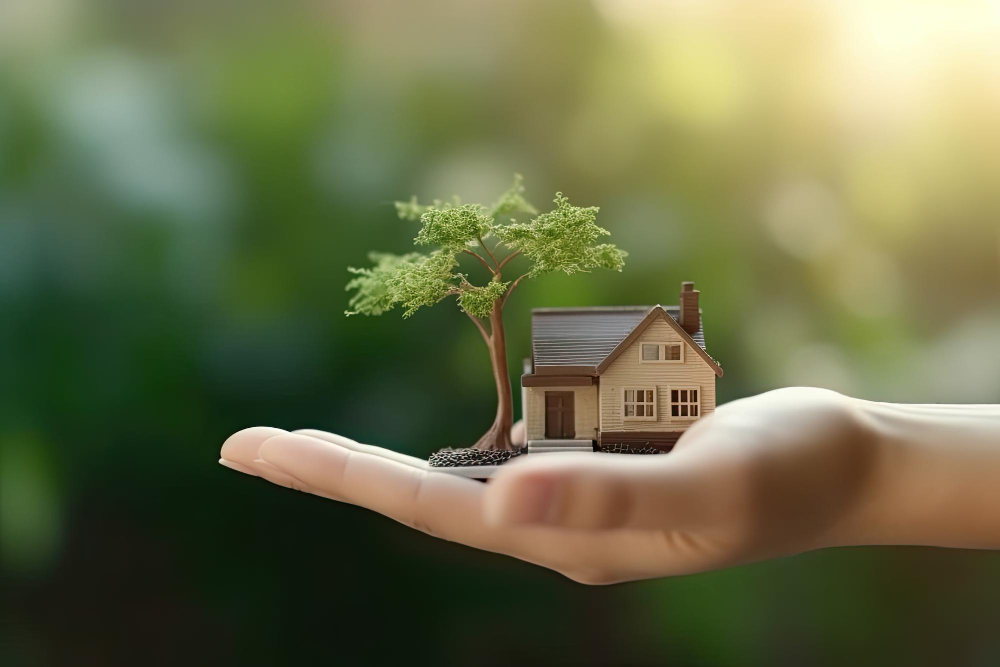 1. Solar Panels
A game-changer in renewable energy solutions, solar panels are often seen adorning the rooftops of homes and buildings. These sleek, flat structures contain cells that capture sunlight and, through a fascinating scientific process, turn it into usable electricity. By harnessing the immense power of the sun, solar panels offer a sustainable alternative to traditional energy sources, drastically reducing greenhouse gas emissions. Over time, they can lead to significant cost savings on electricity bills, making them not only environmentally friendly but also wallet-friendly.
2. Rainwater Harvesting Systems
Our ancestors understood the value of rainwater and utilized simple techniques to collect it. Today, with increasing water scarcity, rainwater harvesting systems have become sophisticated solutions to capture, filter, and store rainwater. These systems, often consisting of catchment areas, gutters, and storage tanks, channel rainwater from roofs or other surfaces. Once stored, this water can be used for gardening, flushing toilets, and even drinking if properly purified. By tapping into this natural resource, households can reduce their dependency on municipal water supplies, ensuring a sustainable water source during dry spells.
3. Green Roofs
Moving beyond the traditional rooftop, green roofs transform these spaces into living ecosystems. Imagine a roof blanketed in a layer of soil and plants! These roofs not only beautify urban landscapes but serve practical purposes too. The vegetation acts as a natural insulator, keeping buildings cooler in the summer and warmer in the winter. This translates to reduced energy consumption and costs. Additionally, green roofs absorb rainwater, reducing runoff and the risk of flooding. They also create habitats for birds and beneficial insects, enhancing urban biodiversity. Embracing green roofs is like giving a little piece of land back to nature.
4. Passive Solar Design
An ingenious blend of architecture and nature, passive solar design is a method that tailors a building's layout and components to harness the sun's energy. By considering factors like the sun's path and local climate, these designs maximize natural light and heat during cold months, while minimizing it during warmer times. Features like large south-facing windows, thermal walls, and floors that absorb and store heat play a role. The outcome? A naturally comfortable indoor environment that reduces the need for artificial heating or cooling. This not only lowers energy bills but also contributes to a decreased carbon footprint, making passive solar design both economically and ecologically sensible.
5. High-Efficiency Appliances
In an era of rising energy demands, high-efficiency appliances are a beacon of sustainability. These devices are designed to do their jobs using as little electricity as possible, without compromising on their performance. From refrigerators to washing machines, these appliances have advanced components that optimize their operations. The benefit? Consumers save on energy bills and reduce their environmental impact. Think of them as the superheroes of the modern household: they work quietly in the background, saving the day by conserving energy and curbing costs, all while performing their primary functions seamlessly.
6. Low-flow Water Fixtures
Water, a vital resource, demands our respect and conservation. Recognizing this, the emergence of low-flow water fixtures, like taps and showerheads, marks a shift towards more sustainable water usage. These fixtures are designed to provide ample water for daily tasks while using significantly less than their traditional counterparts. They achieve this through pressure optimization and aeration techniques, ensuring that every drop counts. For homeowners, this translates to reduced water bills and the satisfaction of preserving a precious resource. In regions facing water scarcity, these fixtures aren't just a luxury; they're a necessity, making every drop go further.
7. Natural and Sustainable Building Materials
As the construction world leans towards sustainability, materials like bamboo, recycled glass, and reclaimed wood are gaining prominence. Bamboo, a rapid-grower, offers strength comparable to steel, making it an eco-friendly alternative to traditional timber. Recycled glass, repurposed from old bottles and windows, gives a unique aesthetic to countertops and tiles. Reclaimed wood, sourced from old structures or fallen trees, brings a touch of history and rustic charm. Using these materials not only reduces the burden on the environment but also adds a distinct character to homes, reflecting a commitment to both style and sustainability.
8. Energy-Efficient Windows
Today's energy-efficient windows, especially those that are double or triple-glazed, are technological marvels. Multiple panes, separated by insulating gases, act as barriers, drastically reducing the transfer of heat. This means, that during winters, the warmth stays inside, and during summers, the heat remains outside. The result? A comfortable indoor temperature year-round reduces the dependency on artificial heating or cooling systems and, consequently, lowers energy consumption and bills.
9. Geothermal Heating and Cooling
Into the depth of Earth's consistency, geothermal systems offer a remarkable solution for heating and cooling homes. Beneath the surface, the Earth maintains a relatively stable temperature, unaffected by seasonal changes. Geothermal systems tap into this steady warmth during winters by circulating fluid through buried pipes, drawing heat to the surface. In summer, the process is reversed, with the system expelling heat from homes into the ground. This natural thermostat provides efficient temperature regulation, resulting in significant energy savings and a substantial reduction in greenhouse gas emissions.
10. Smart Home Integration
The homes of today aren't just shelters; they're intelligent entities. Thanks to smart home integration, various functions, from lighting to heating, can be automated and optimized. With sensors, algorithms, and interconnected devices, these systems can learn a homeowner's patterns and preferences. For instance, lights dim as the sun rises, or heating turns down when no one's home. Such automation ensures energy is used precisely when and where it's needed, eliminating wastage. The result is a home that's not only convenient and responsive but also remarkably energy-efficient.
Various Benefits of Eco-Friendly Homes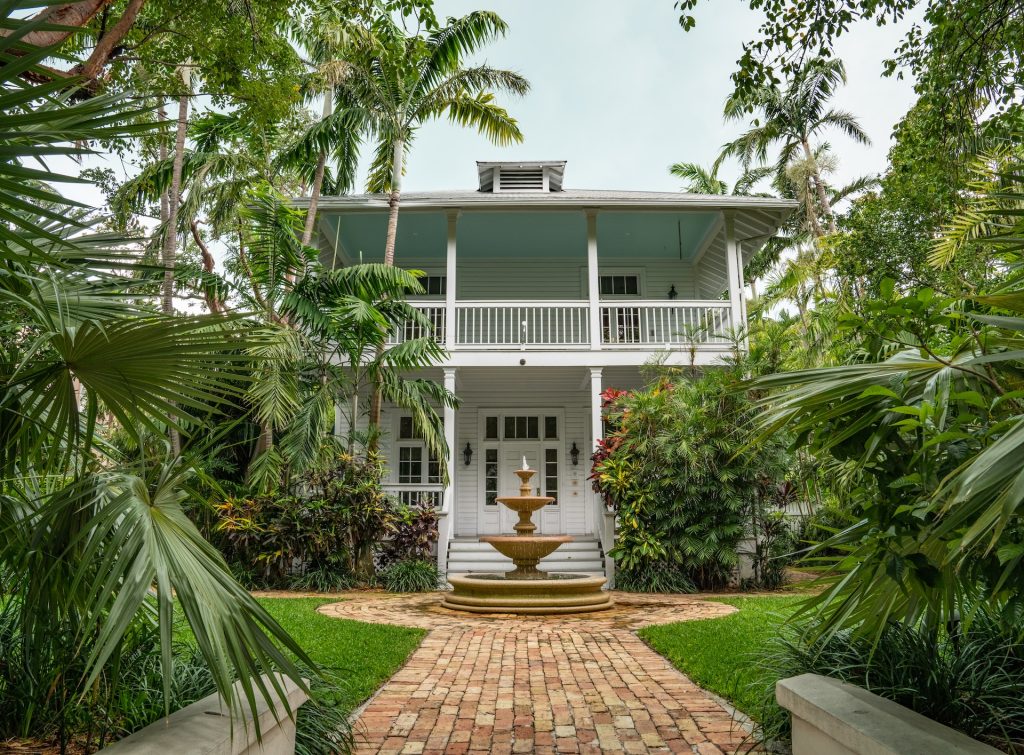 1. Enhanced Property Value
In the contemporary real estate market, sustainability isn't just a buzzword—it's a significant asset. As environmental consciousness grows among consumers, the demand for eco-friendly homes has seen a substantial rise. Properties that incorporate green technologies, energy-efficient designs, and sustainable materials are often viewed as more valuable than traditional homes. Prospective buyers recognize the long-term savings and benefits these homes offer, making them willing to invest more. Consequently, homeowners with eco-friendly properties often find that their investments not only benefit the planet but also promise a higher resale value, making green living a financially sound decision.
2. Health Benefits
The benefits of eco-friendly homes extend well beyond financial savings and environmental protection; they directly impact the well-being of the residents. Traditional homes can often harbor harmful chemicals and toxins, emitted from paints, solvents, and certain building materials. In contrast, green homes prioritize the use of non-toxic, natural materials, drastically reducing the risk of indoor air pollution. This minimized exposure to potential allergens and harmful chemicals can lead to fewer respiratory issues, skin irritations, and other health problems. Residents of eco-friendly homes, thus, enjoy a living environment that actively supports their health and wellness.
3. Resource Conservation
At a time when the world grapples with diminishing natural resources, eco-friendly homes emerge as champions of conservation. These homes are designed to use resources—whether it's water, energy, or materials—judiciously and efficiently. Techniques like rainwater harvesting, solar energy utilization, and the use of reclaimed materials play pivotal roles in reducing dependence on rapidly depleting resources. This conservation-oriented approach ensures that we leave behind a smaller ecological footprint, paving the way for a sustainable future. It's a testament to the philosophy that luxury and comfort don't have to come at the expense of the planet.
4. Self-sufficiency
One of the standout features of eco-friendly homes is their drive towards self-reliance. Imagine a home that generates its own electricity through solar panels or wind turbines and collects its own water via rainwater harvesting systems! This independence from external utility providers not only ensures uninterrupted service but also shields homeowners from fluctuating market prices and potential supply disruptions. Such self-sufficiency is not just about autonomy; it's a profound statement of resilience, ensuring that come what may, the home remains a self-sustaining oasis.
5. Future-proofing
As we move forward, the world is becoming acutely aware of its environmental limitations. Energy prices are on the rise, and governments worldwide are tightening environmental regulations. In this evolving landscape, green homes, with their efficient designs and sustainable practices, are incredibly future-ready. They're designed to meet or even exceed upcoming environmental standards. As non-renewable resources become scarcer and pricier, these homes, with their focus on renewable energy and resource conservation, will become even more valuable. Investing in an eco-friendly home today is like securing an advantage for tomorrow.
6. Community and Social Benefits
Living in an eco-friendly home often extends beyond individual or family benefits. These homes, especially when part of eco-communities or green neighborhoods, foster a sense of unity and shared purpose. Residents frequently come together for communal gardening, shared energy projects, or sustainability workshops. This communal spirit extends to a broader sense of responsibility towards the environment. It's a refreshing reminder that while individual actions matter, collective efforts can lead to monumental changes, building stronger, more cohesive communities bound by a shared green ethos.
7. Peace of Mind
At its core, choosing to live in an eco-friendly home is a deeply personal and ethical decision. Beyond the tangible benefits of savings and health, there's an intangible reward: peace of mind. Residents of green homes can sleep easier, knowing that their daily lives, from the light they switch on to the water they drink, are not causing undue harm to the environment. This knowledge, that one is actively contributing to a healthier planet and leaving a positive legacy for future generations, brings a profound sense of contentment and satisfaction that's priceless.
8. Environmental Protection
Eco-friendly homes stand as a beacon of hope in our quest to safeguard the planet. By prioritizing green technologies and sustainable practices, these homes drastically reduce their carbon footprint, which refers to the amount of carbon dioxide and other greenhouse gases they emit. Furthermore, the conscious choice of materials and design approaches ensures that these homes inflict minimal damage on natural ecosystems. Whether it's through conserving water, harnessing renewable energy, or reducing waste, these homes embody a pledge to tread lightly on Earth, ensuring a healthier planet for future generations.
9. Economic Savings
Beyond their environmental merits, eco-friendly homes make a compelling case for financial prudence. By integrating energy-efficient appliances, solar panels, and water-saving fixtures, these homes often consume significantly less water and electricity than conventional houses. This reduction in resource usage directly translates to lower monthly utility bills. Over time, homeowners can recoup the initial investment made in green technologies through these consistent savings. Thus, eco-friendly homes offer a dual advantage: they're gentle on the planet and kind to the wallet, making sustainability an economically smart choice.
10. Improved Air Quality
Breathing clean air is fundamental to our well-being, and eco-friendly homes prioritize this aspect. By using non-toxic building materials, paints, and finishes, these homes ensure that indoor air remains free from harmful pollutants commonly found in traditional constructions. Materials like bamboo, cork, and natural clay plasters don't release harmful chemicals, ensuring the air inside remains fresh and clean. This focus on air quality doesn't just make for a more pleasant living environment; it's a boon for health. Reduced exposure to toxins can lead to fewer allergies, respiratory issues, and overall better health, making eco-friendly homes sanctuaries of well-being.
Challenges and Criticisms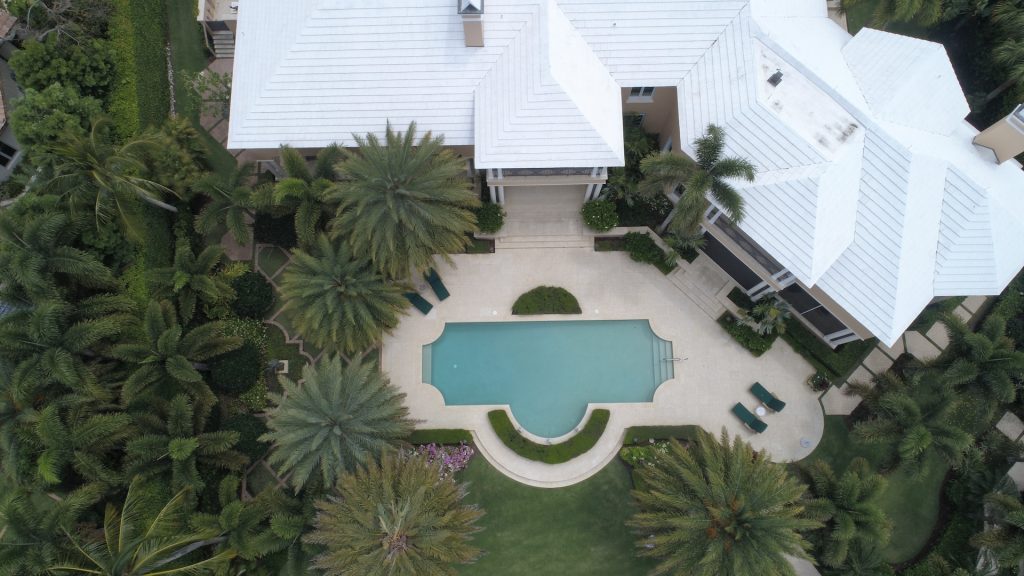 1. Financial Barriers and Initial Investment
One of the most substantial hurdles potential homeowners face when considering an eco-friendly dwelling is the initial cost. While traditional homes have established blueprints and readily available materials, the innovative technologies in Real Estate and specialized materials for green homes can carry a heftier price tag. Solar panels, energy-efficient appliances, and other sustainable technologies often require a significant upfront investment.
For many, this initial expenditure, even with the promise of long-term savings and potential government subsidies or tax breaks, can be daunting. The debate, therefore, hinges on viewing these costs as investments for future savings versus immediate financial challenges.
2. Aesthetics and Misconceptions
The world of architecture and design has seen a seismic shift, with modern green homes boasting some of the most avant-garde designs. Yet, there remains a lingering misconception that eco-friendly homes compromise on aesthetics, offering a more 'rustic' or 'earthy' look at the expense of contemporary elegance. Such misunderstandings, often rooted in outdated stereotypes, overlook the innovative strides the green housing sector has made.
Moreover, some potential homeowners worry that eco-friendly homes might not offer the same conveniences or luxuries as traditional homes. However, in reality, many green homes are at the forefront of luxury, merging sustainability with modern amenities seamlessly.
3. Navigating the Learning Curve
Transitioning to an eco-friendly home isn't just about moving boxes; it's about adapting to a new way of living. Inhabitants often need to familiarize themselves with unfamiliar technologies, from understanding the nuances of solar energy storage to managing advanced home automation systems.
This learning curve, while rewarding in the long run, can be overwhelming for some. They might face challenges in optimizing the benefits of their green technologies or in maintaining certain systems. Continuous education, guidance from experts, and community support can ease this transition, but it remains a notable challenge for many stepping into the world of sustainable living.
Conclusion
As we stand on the brink of environmental challenges, the choices we make today will shape the world of tomorrow. Eco-friendly homes are more than just a trend; they're a testament to humanity's capability to coexist harmoniously with nature. By making informed decisions, we can ensure a brighter, greener future for ourselves and the generations to come.
FAQs
1. What is an eco-friendly home?
An eco-friendly home is designed to minimize its negative impact on the environment. It utilizes sustainable materials, and energy-efficient appliances, and incorporates practices like water conservation. These homes prioritize the use of renewable energy sources and often feature technologies like solar panels and rainwater harvesting systems.
2. How do eco-friendly homes benefit the environment?
Eco-friendly homes reduce carbon footprints by using less energy and water. They often incorporate renewable energy, minimize waste, and use sustainable materials, which helps conserve resources and reduce pollution.
3. Are sustainable homes more expensive than traditional homes?
Initially, some sustainable homes may have higher costs due to specialized materials and technologies. However, in the long run, homeowners typically save on utility bills, which can offset the initial investment.
4. How do solar panels contribute to a green home?
Solar panels capture sunlight and convert it into electricity. This allows homeowners to generate renewable energy, reducing reliance on fossil fuels and lowering electricity bills.
5. What is a green roof?
A green roof is covered with vegetation and soil. It reduces heat absorption, provides insulation, and can even offer a habitat for local wildlife.
6. How does rainwater harvesting work in sustainable homes?
Rainwater harvesting systems collect and store rainwater. This water can be used for gardening, flushing toilets, or, with proper treatment, even drinking, reducing the demand for municipal water supplies.
7. What materials are commonly used in eco-friendly construction?
Materials like bamboo, recycled glass, reclaimed wood, and sustainable insulation materials are common in green home construction due to their low environmental impact.
8. How do energy-efficient appliances contribute to sustainability?
Energy-efficient appliances consume less electricity while delivering the same performance. This reduces the home's overall energy consumption and carbon footprint.
9. Do eco-friendly homes have a modern design?
Yes, Many modern eco-friendly homes showcase cutting-edge design and aesthetics, seamlessly merging sustainability with luxury and convenience.
10. Can I retrofit my existing home to be more sustainable?
Yes, many traditional homes can be retrofitted with energy-efficient appliances, solar panels, better insulation, and other sustainable features to make them more eco-friendly.
11. Are green homes more durable?
Often, yes. Sustainable homes use high-quality materials and building techniques, which can result in longer-lasting structures with fewer maintenance issues.
12. How do low-flow fixtures contribute to sustainability?
Low-flow fixtures, like faucets and showerheads, use less water than traditional fixtures. This leads to significant water conservation over time.
13. What is passive solar design?
Passive solar design uses the sun's energy for heating and cooling. By strategically placing windows, walls, and floors, homes can capture or deflect sunlight to maintain interior temperatures.
14. Is it difficult to maintain an eco-friendly home?
Not necessarily. While some technologies might require learning, many sustainable solutions, like energy-efficient appliances, operate similarly to traditional counterparts. Over time, homeowners find maintenance routines that work for them.
15. Can I get tax benefits or rebates for green homes?
Many governments offer incentives, rebates, or tax breaks for sustainable home features like solar panels. It's essential to check local regulations and incentives.
16. Do eco-friendly homes have a higher resale value?
Often, yes. As environmental awareness grows, many buyers are willing to pay a premium for homes that offer sustainability features, translating to higher resale values.
17. Are there certifications for eco-friendly homes?
Yes, organizations like LEED (Leadership in Energy and Environmental Design) offer certifications for homes built with sustainability standards in mind.
18. How does smart home integration support sustainability?
Smart home technologies can automate and optimize energy usage. Systems can adjust lighting, heating, or cooling based on occupancy, leading to more efficient energy use.
19. What's the difference between eco-friendly and 'green' homes?
While often used interchangeably, 'green' typically refers to environmental considerations, while 'eco-friendly' encompasses both environmental and human health considerations. However, the exact definitions can vary based on context.
20. Can I build an eco-friendly home anywhere?
While it's possible to incorporate sustainable features in any location, some areas might be more conducive due to sunlight, rainfall, or local regulations. It's essential to consult with local experts and authorities.
21. How do sustainable homes handle waste management?
Many sustainable homes integrate systems like composting, recycling, and even greywater reuse to reduce waste and minimize their environmental impact.